9.06am 21 April, Chittagong, south east Bangladesh.
It is becoming apparent why this is still a 3rd world country – they literally have (almost) no idea of time.
I backtrack to yesterday morning. I was told that breakfast would be ready at 7am and that my ride from Joypurhat to Saidpur Airport (about 1.5 hours north) would arrive at 7.30am to get me there in good time for my 10.50am flight. I awoke at 5.30am (just because), and was processing photos at 6am when there was a knock on my door to tell me that my ride was ready to go.
I was gobsmacked – every other day I had been sitting around while they were late or changed plans without telling me, this time they are 1.5 hours early!! – oh well better early than late when a plane is involved, so I wolfed down some breakfast – toast, egg and a cup of cha (tea) and boarded a crappy Toyota van with the obligatory broken windscreen for my journey north to Saidpur.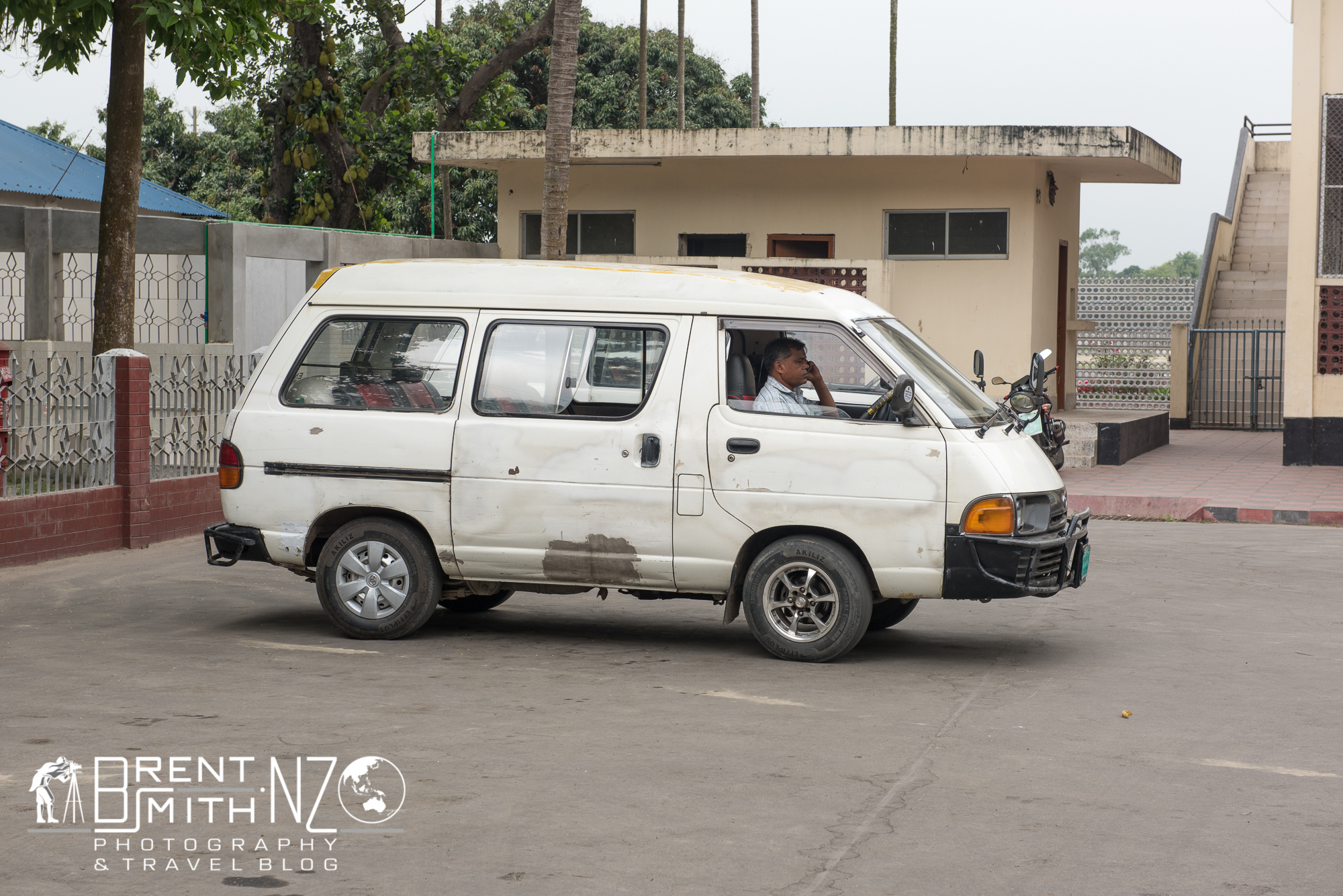 I was the only passenger and the driver spoke no English – which was fine by me as I was tired and happy just to see the sights. The countryside although flat is very nice and there is always something to catch your eye.
He was a good driver and the journey was uneventful for us, but not so good for the dog that ran out in front of us and got smacked hard sending it spinning into a ditch. It then come running out of the ditch and went down the road as fast as it could now on 3 legs as the other leg was hurt and not being used, hopefully it will come right in time, of course there are plenty of dogs that get by running around on 3 legs. It wasn't the drivers fault – he had skillfully avoided ducks, sheep, goats, cows and people, I am sure he wasn't anti dog, and he did slow at the last second before hitting (possibly more to reduce damage to the van – not the dog). When he hit he looked at me with a worried look in case I was upset or angry – when he saw I wasn't either he was visibly relieved.
For a short while we skirted the Indian Border with it's security fence just to our left. The Border Patrol is all Indian Soldiers so it is obvious which way most of the attempted illegal border crossings are made.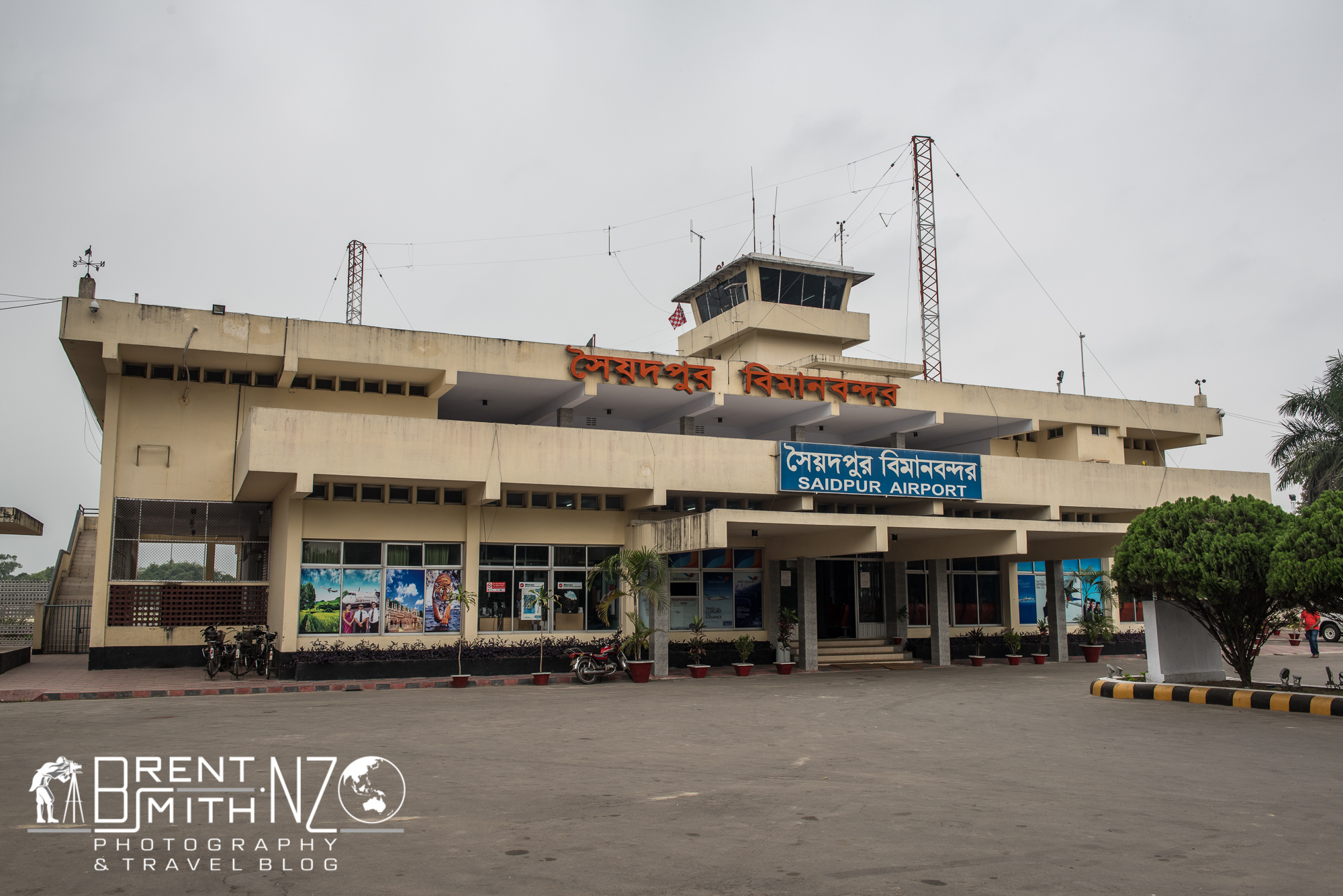 The airport was a very small provincial airport serviced by prop planes, the flight was 50 minutes to Dhaka, no views until we landed due to hazy atmosphere. From the air Dhaka is an immense City which being so flat, and with so much water around it appears on the verge of flooding at any time.
I had a few hours layover in Dhaka then boarded a 35 minute flight to Chittagong, Bangladesh's 2nd largest city, a major sea port and the scene where (north of the city), old ships are bought for scrap iron, driven onto the beaches and broken apart.
I came here to try and see the ship yards and also to go to the war cemetery where some New Zealanders that died in WW2 are buried. I like to pay my respects to the young men who died and are buried far from home – I am in no way religious and don't believe in the after-life, but just in case I am wrong, I like to think that somehow their souls might look down on me where there mortal remains lie, and say – someone from home cared enough to remember us. I have New Zealand silver ferns flags (couldn't get true NZ flags like I wanted), and poppies I collected from the Returned Services Association (RSA) which I will place on their graves.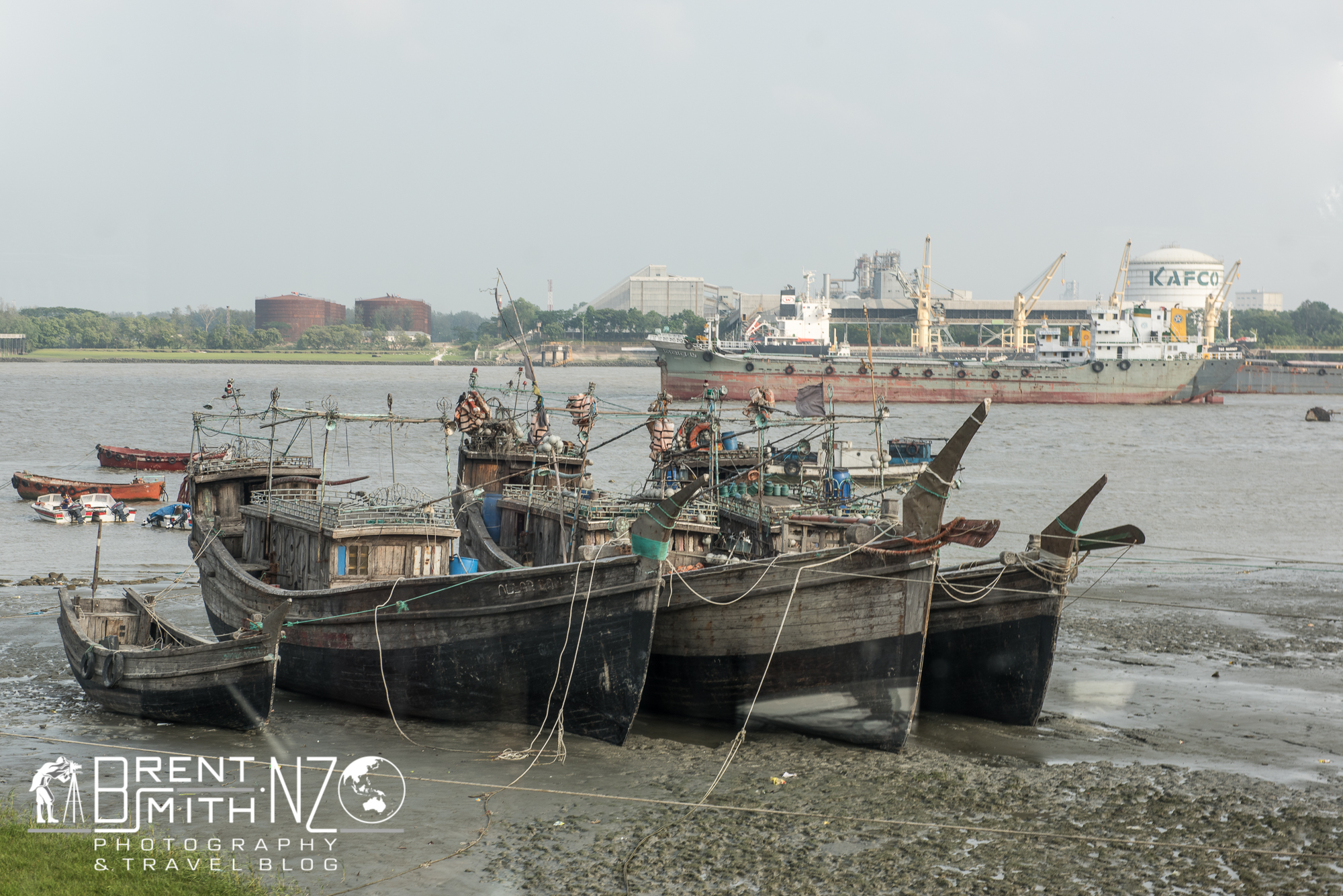 Once I arrived in Chittagong it quickly became apparent what a bustling City this is. There are ships everywhere in the River (which leads a couple of k's down to the open sea), and trucks transporting all manner of freight. The trip into the centre of town was gridlocked and took over 1 hour to travel not that far.
The centre of town is called the GEC – named after the General Electric Company (seriously it is), why I have no idea, but so I was told, so, so it must be.
Once there I had to find a Hotel – as usual I had no booking and no idea. The first Hotel I saw was the Radisson, no doubt too glitzy for me so by-passed. Further down the road was the Peninsula Hotel – a reasonably modest entrance, but the name sounded posh – based on the Peninsula Hotel in Singapore I thought it would also be too upmarket for me – especially after staying in the Adibashi Village a couple of nights before.
But I was gripped by a moment of madness and thought I would see what their room rate was anyway.
It was very flash inside and I felt somewhat out of place in my stinky sandals, pongy sweat soaked t shirt and filthy pants. The room rate started at $250NZ. I explained it was out of my league, I had been paying $27 – $30, and thanks for your time but no thanks, I was told to wait while they consulted with the manager to see what they could do, drinks and a snack were produced while I waited – I said no I couldn't take them since I had no doubt I wouldn't be staying, but the immaculately groomed man insisted I did so I did.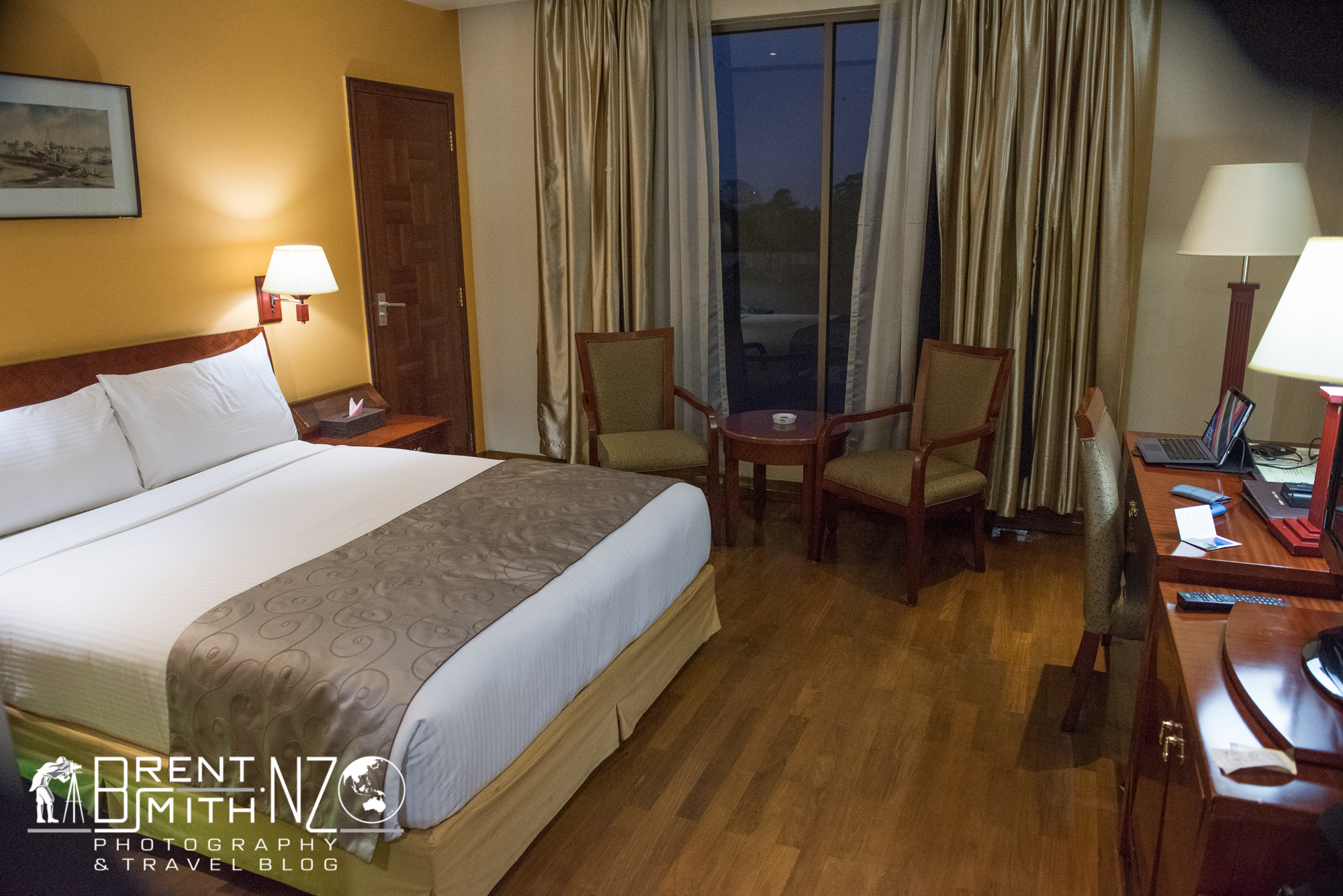 After about 5 minutes the man who was seeing the manager returned to let me know they could do me a special deal at $90 – I was pleasantly surprised and told him that as long as the internet was good I would accept for 2 nights. I asked to try it out first before I finally confirmed – he scurried off again to see the IT manager. Five minutes later he was back with a special password to access not their standard guest internet but the office high speed. It is high speed, the room is very nice, not at all like I had become used to, but hey it's Chittagong, it's my first posh hotel for the trip, and probably my last so why not!!
So today my plan is to go to the Railway station to book a train to Comilla tomorrow where there is another war cemetery with New Zealanders buried. Then after I have booked tomorrow's train I will head to Chittagong War Cemetery, then later in afternoon when the light is good try, to hire a boat to take me for some covert photographing of the ship breaking yards. Next report will notify the results.