My flight from Kolkata back to Dhaka, Bangladesh was scheduled for 10.10am but for some reason it was one hour late. Never mind.
My next flight from there wasn't until 2pm so I had plenty of time.
When we finally got to board the flight to Dhaka all the announcements are in Bengali which of course means nothing to me. Time zones in this part of the world don't make sense. Let me explain simply.
If you hold up three fingers – the left finger is the main part of India, the middle finger is Bangladesh which is 30 minutes ahead (time wise) of the main part of India, but the north Eastern part of India (your right finger)where I was previously (Nagaland and Manipur) reverts back to Indian time, so travelling from left to right you go forward 30 minutes for Bangladesh, then back 30 minutes for Eastern India even though it is east of Bangladesh and should be either equal to (or ahead of) Bangladesh – got it??
Anyway for some strange reason (fatigue??), when I arrived in Dhaka I had put my watch back 30 minutes instead of forward, meaning it was showing the time as one hour behind what it should have.
I settled into the waiting area having exited customs, got another Visa on arrival for another US$51, and was relaxing eating a Luke warm beef (maybe) roll (like a giant sausage roll from home except with bits of hair in it).
I knew my flight was at 2pm, but nothing is in English, no big screens, or boarding announcements. All flights exit the building out the same door to buses that take you across the tarmac to your plane.
I casually watched people queuing and heading out the door as I carefully dissected and ate my sausage roll.
Occasionally I glanced at the tv to see the local Bangladesh tv programme which I could make no sense of. Then for some unknown reason my attention was drawn to the top left of the screen – it said in English 1.49 – I checked my watch, 12.49, holy shit, I realised my watch was wrong and my plane had boarded. The people I watched casually as they exited out the door and onto a bus 20 minutes before were getting on my plane.
I went up to the man at the door and showed him my boarding pass and said Sylhet (my destination). He told me to take a seat as it hadn't boarded yet, then another man came over and told me to get up and see another man, I did and he motioned for me to sit down again, as soon as I had sat down a Soldier came over and told me to get up again and see the first man again, who once more directed me to sit down. Then yet another man directed me to get up, and then he had an argument with Mr sit down. Then the soldier got involved and I just stood there grinning at the bedlam I had created.
In the end I stood there until someone opened the door of the terminal and motioned for me to follow yet another man. He opened the front door of a beaten up 4wd and in I got, behind me got two more men and the three of us passengers were driven across the airport to our waiting plane. The first man who got in the back looked like an Afghani, big black beard without a moustache, but to my surprise he said hello in good English – turned out he is a Barrister practising in London, he is going home to see his family in Sylhet.
The plane was mostly empty, so I swapped to a convenient seat to see the view and off we went.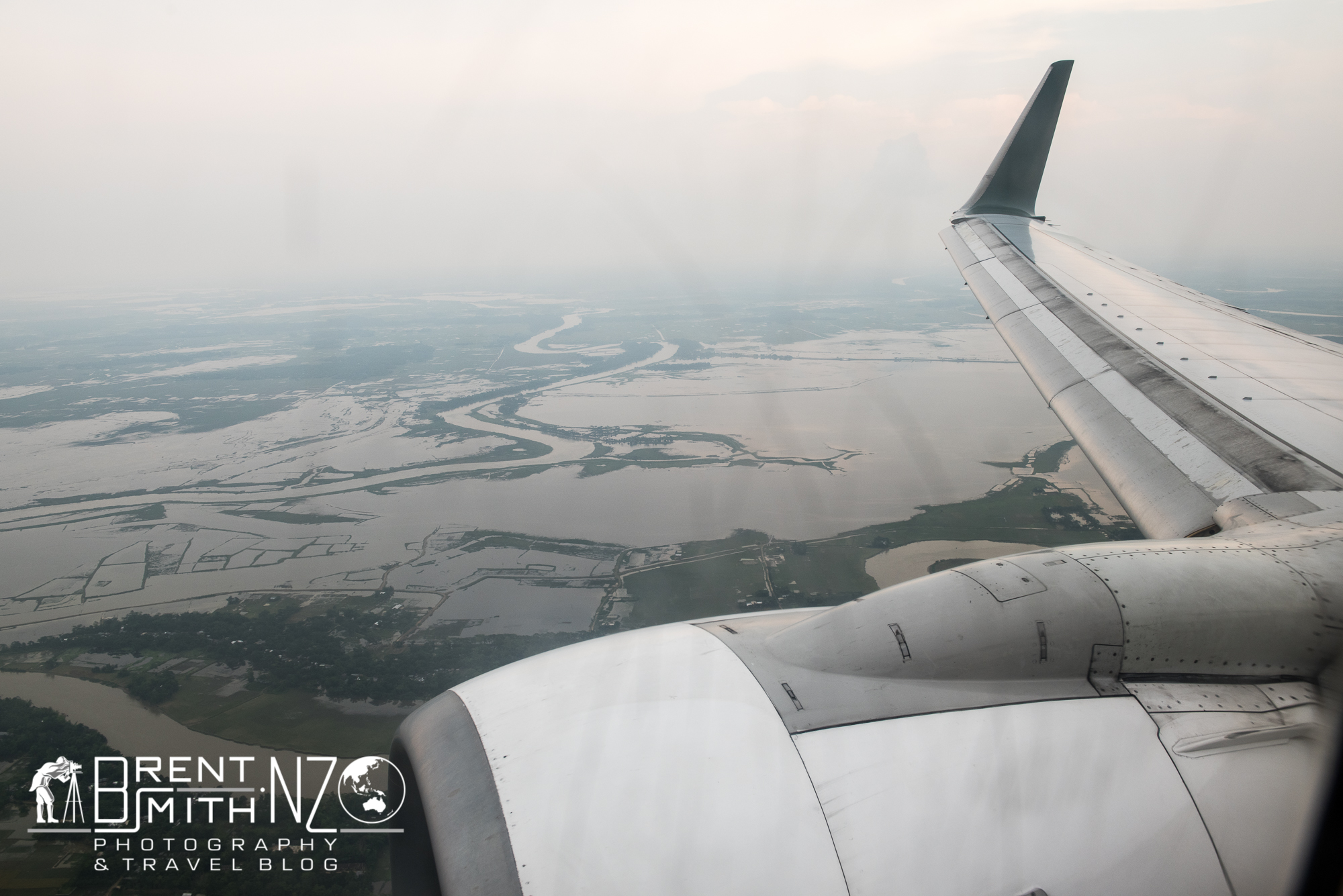 The flight was just over 30 minutes, and approaching Sylhet I was surprised to see how much water was everywhere, the entire region was waterlogged – fields, roads etc all under water – seems the monsoon has arrived early – everyone talks about global warming – Bangladesh is particularly susceptible as it is mostly just above sea level. It was so waterlogged I was wondering where people could life and more importantly to me where were we going to land. Right up until touch down there were fields of water everywhere, the airport (very small) is built up a little higher than the surrounding ground so remained dry.
For all the bad press Bangladesh gets I would have to say it is one of the friendliest places I have been to anywhere in the world. They all smile and enjoy seeing a foreigner, it's just a pity we don't have a common language that we are all fluent in. I was approached by a guy at the airport while I was waiting for my bag and asked where was I going and what were my plans. I could understand him because he came from Pudney?? in England where he had lived most of his life – it was so bizarre to have a Bangladesh looking man speaking with a real pommy accent and not a hint of Bengali.
I told him I had no idea what I was going to do, had a brief chat and he left. I then haggled with a CNG (gas powered tuk tuk), and was bought the 11 or so ks into Sylhet and to my Hotel – Nirvava Inn.
It is probably only 25 degrees here, humid and seems to rain for a short period most days at this time of year. The monsoon starts later this month down country, but comes here first and it is getting closer day by day.
I checked into my hotel which has the hardest bed I have ever had – I actually checked to see that it had a mattress as I thought it was sheets on boards, but it does have one.
I was tired so decided to eat in the Hotel – I felt like chicken, but most met in Bangladesh is more bone than meat, so when I was given the menu I looked at what I thought could be ok (the menu was in English, sort of). I pointed to a dish and asked the waiter was it on the bone, he said yes so I rejected it. I pointed to another dish and again asked was it on the bone, yes he said so again I rejected it also, in the end I saw chicken fried rice and thought that was a safe bet so I ordered that.
He duly delivered me a mountain of delicious chicken fried rice. Problem was he also delivered me all the other meals that I had rejected. There I sat with 3 massive meals spread out all around me. Once I got over the shock of the triple delivery I tried to explain to him that he had made a mistake – I didn't want to pay for three meals.
The Manager came over and asked was there a problem, I explained that I had only ordered the chicken fried rice and he understood. The waiter took the other meals away and left me with my tasty mountain of chicken fried rice. I felt really bad when I saw the manager obviously telling the waiter off for making such a stupid mistake. The waiter was quite upset and it wouldn't surprise me if they dock his already paltry wages for the error. He wasn't very bright and he was trying so hard to make a good impression on me. I just hope he doesn't lose his job, tomorrow night I'll see if he is there and if he is and if he gets it right I will give him a big tip.
Great to be back in Bangladesh, it might not suit everyone, but I love it.