Up at 8am, off to Chittagong War Cemetery – got there the day before 15 minutes after they closed for 2 hours for lunch, and since I was going to the ship breaking yards that afternoon I couldn't get back, so it's first task for the day. By fluke it was only 250 meters in a straight line from the Hotel I was at – if only you could get there in a straight line. It took 15 minutes to wend my way this way then that to get there.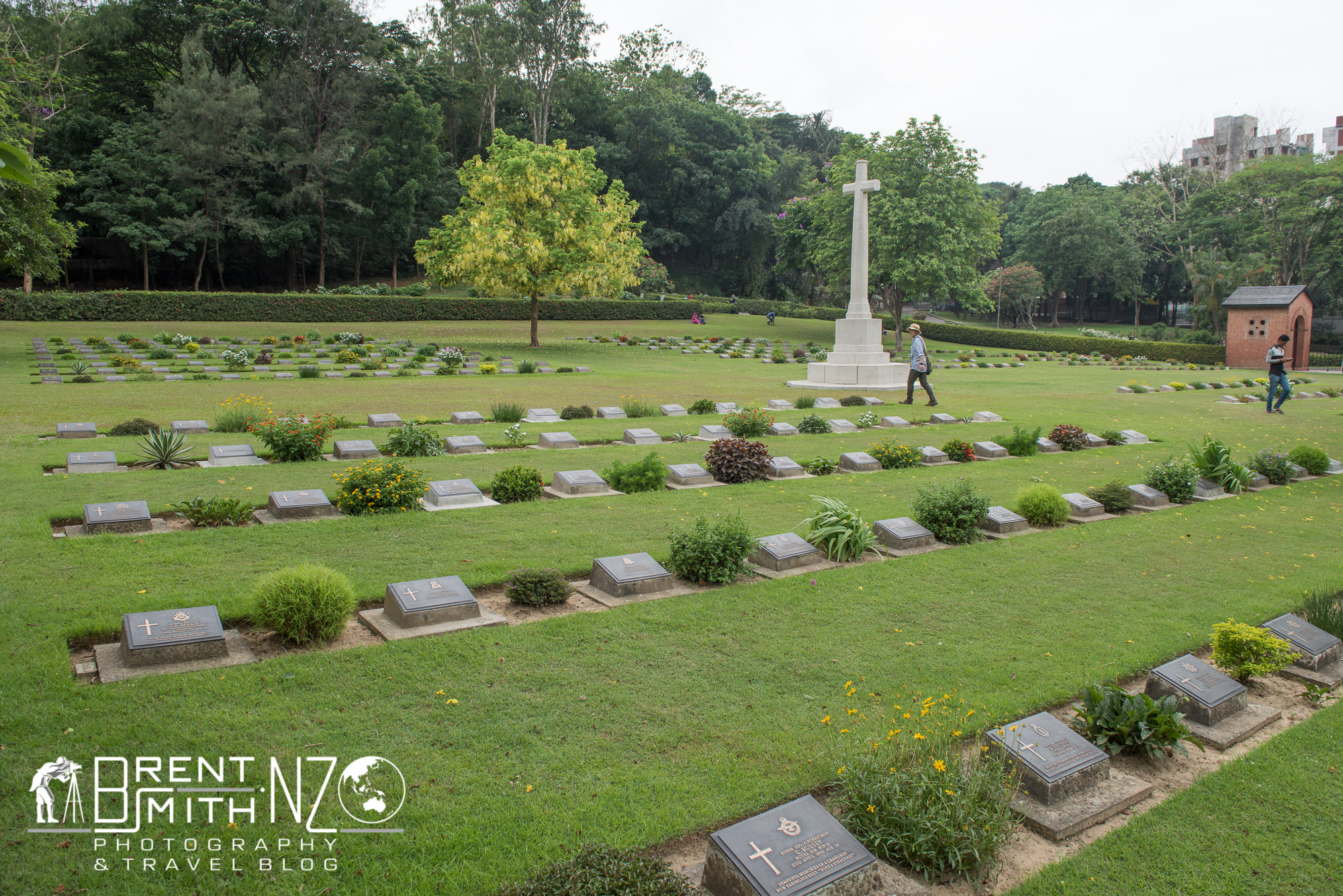 It is quite large and immaculately kept which is good. It is managed by the Commonwealth War Graves Commission and there are two New Zealanders buried there, Kenneth Burchard and Albert Carpenter. I had researched and knew their grave numbers so I found them quickly. They are in different parts of the cemetery. I placed New Zealand flags and put a poppy by their graves and took photos. There is a website that has the locations and information for all known graves of New Zealanders including sometimes, photos of the graves, but these graves are rarely visited by New Zealanders so there are no photos online, I will change that when I get back.
It was strange to see that among the nationalities buried that there was 1 Japanese, that struck me as strange that an enemy would be buried among the allied graves. I noticed another man who seemed to be hunting backwards and forwards among the graves clearly trying to find someone. Since I had performed my task I got a little closer to him and he looked Japanese. I asked him if he was, he replied in the affirmative, and I asked was he looking for the grave of the Japanese Soldier – he was. I said I would help him so we both took different sides of the cemetery and went looking.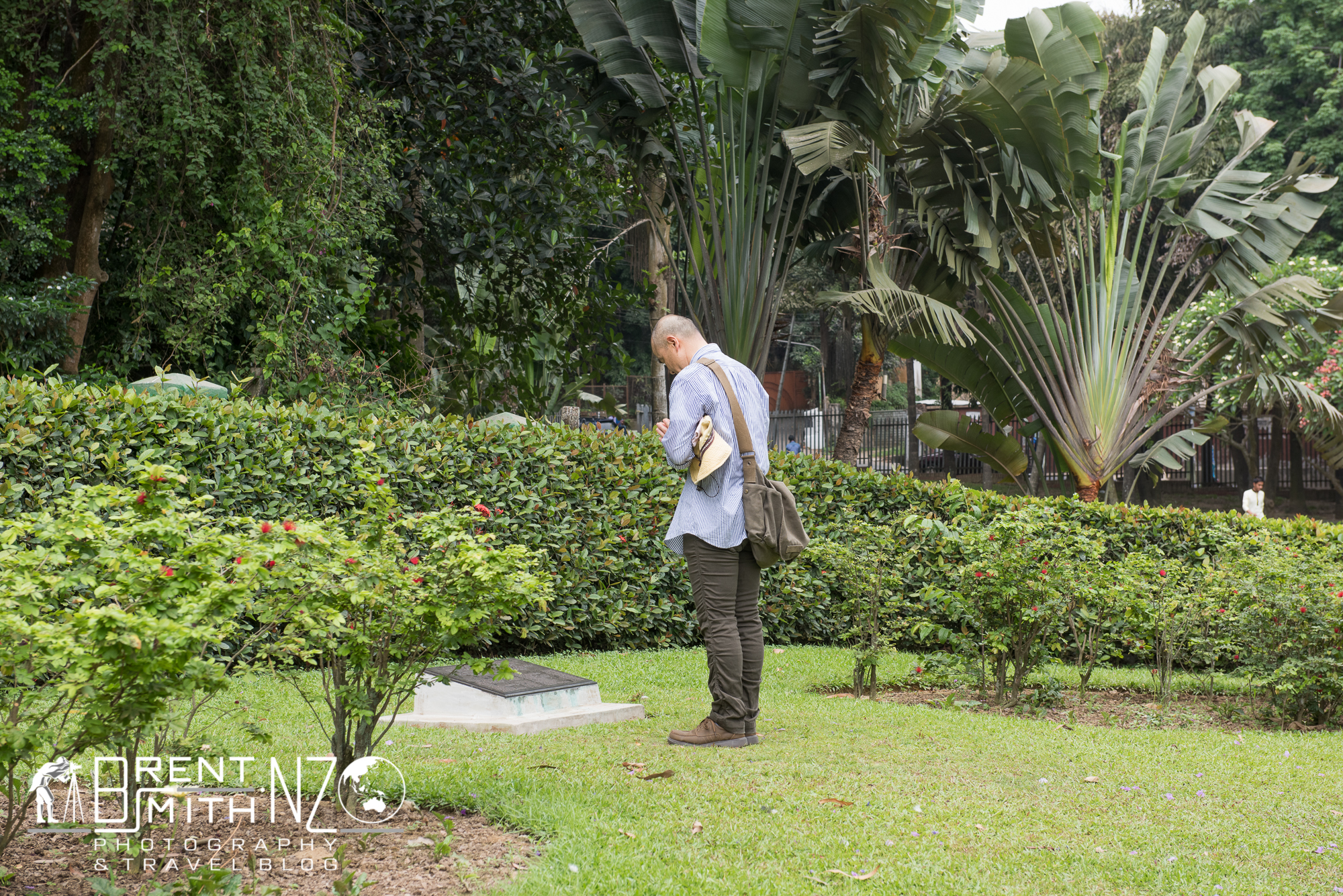 He found it before me – it was separate and up on a small rise probably 30 meters away from the other graves. There were 19 Japanese buried there and not 1 as listed. We had a chat about the past, acknowledged that we were pleased that times had moved on, and when we looked each other in the eye we could both see that we had accomplished our respective missions. We both shook hands with emotions running high and went our separate ways. When I looked back at him he had his hands clasped and his eyes shut – he was saying some prayers – I had put down flags and a poppy, he was saying prayers, same result – respects paid, just in different ways.
From there I went back to the Hotel, grabbed my bags and paid a man 150 Taka ($2.20) to take me the 3 k's up the road to the railway station. It was a strong head wind and I felt sorry for him as he had to dismount and walk me up a couple of small rises into the wind. He was sweating profusely when we got there and he thoroughly deserved the 40 cent tip I gave him.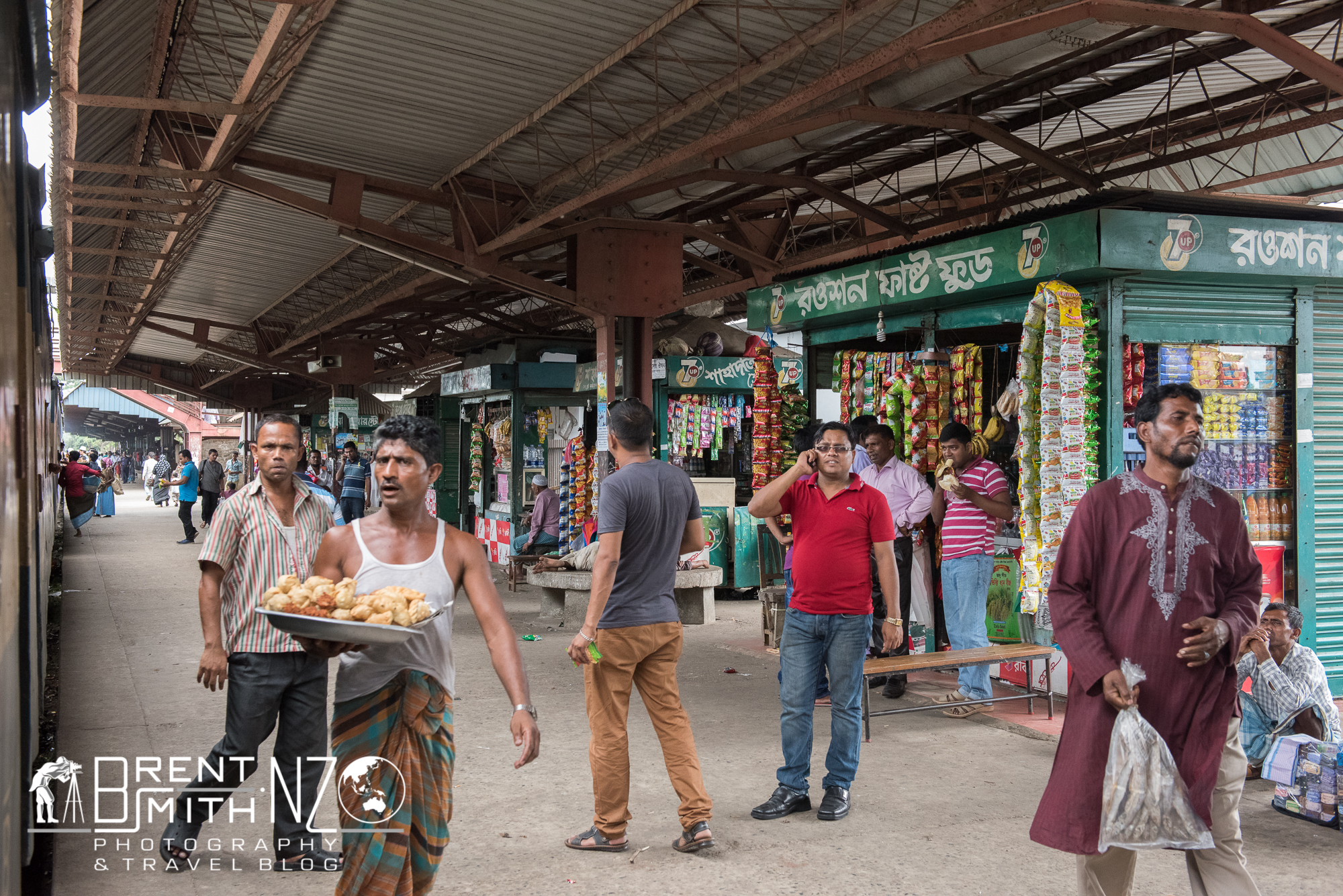 From there I found some assistance to A) find the right train B) find the right carriage and C) find my seat – nothing is in English. I had booked my preferred Shuvon Chair Class – that is a comfortable seat, without air conditioning, but with opening windows – better for taking photos than looking through a filthy window in an air conditioned carriage.  I always get the window seat so I can get the breeze and the photos.
The train departed exactly on time at 11.30am and we trundled on across flat country to Comilla which we reached after a couple of stops just over 3 hours later.
Comilla was an absolute dive, I had high expectations because I thought it sounded like a nice place, but it was a semi deserted, dangerous feeling dump. I had befriended (as usual) 2 guys on the train who said they would help me find somewhere to stay (as usual I had no booking), I said I wanted air conditioning and internet – they had hardly no English but explained there was no internet – I thought that can't be right – everywhere has internet these days (don't they??)
As soon as we arrived I sensed it had a different feel about it, no-one was friendly and they glared, I had the sense they were eyeing me up not in a friendly way. Apparently there were 2 hotels in the vicinity of the railway station, but first I wanted to get a ticket for the train the next day to take me to Dhaka, that was easy because one of my new friends – named Shah-Newas Khan (and that's just his first name), transacted the purchase for me. They only had first class left which was 240 Taka $4.30, but I took it anyway.
Having completed that, next stop was to find the hotel – no worries – walk out the railway station, walk 100 meters straight ahead, up to the first floor (with my 2 minders) and ask for a room with air conditioning and internet. Only problem – no air conditioning and no internet.
Oh well, off to the second and remaining Hotel. Up stairs to the first floor again (past all the rubbish at the bottom of the stairs), in I go with my minders, room rate 1500 taka ($26) here is the key to have a look – well it was the biggest dump I have ever seen.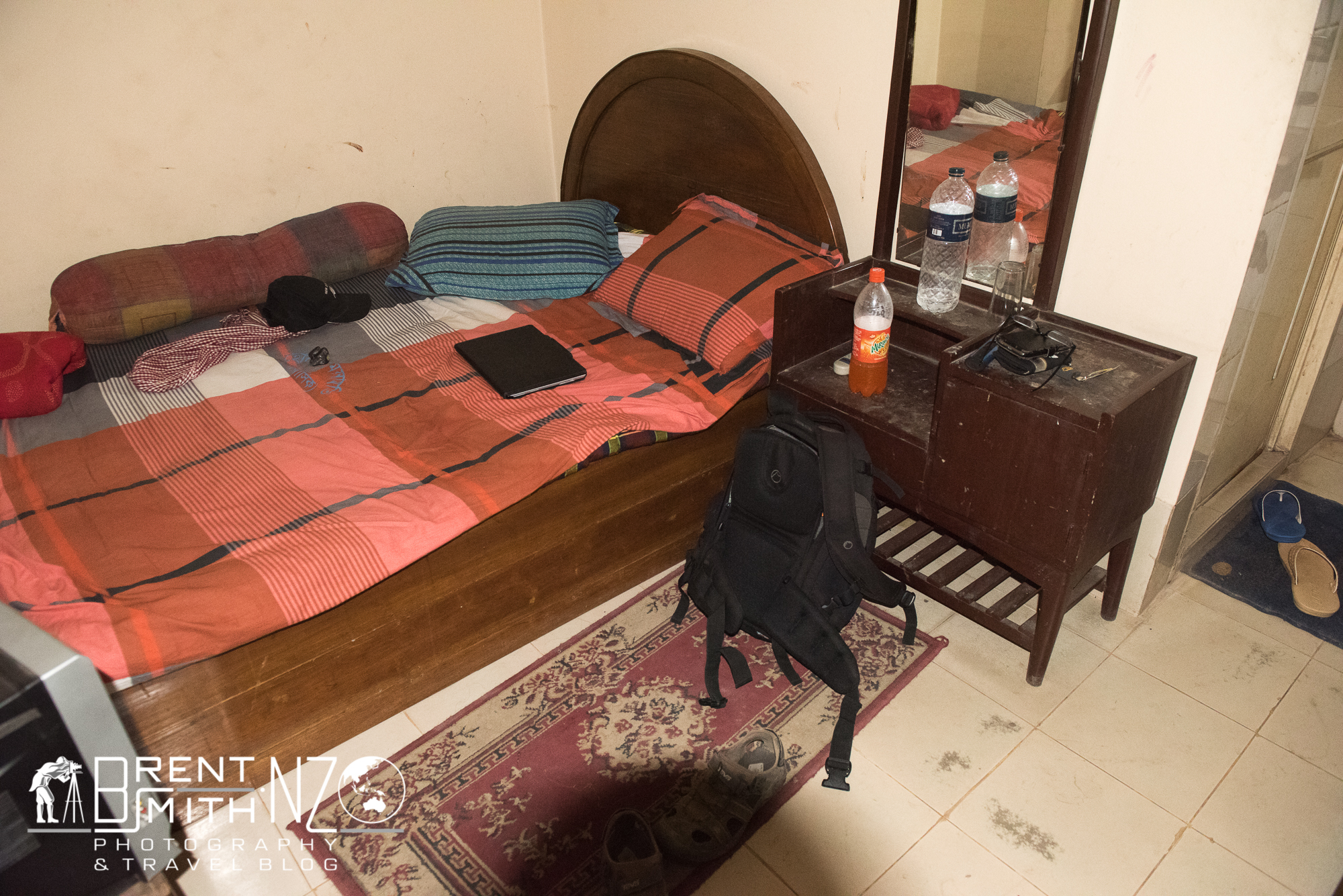 The bed was disgusting with no sheets,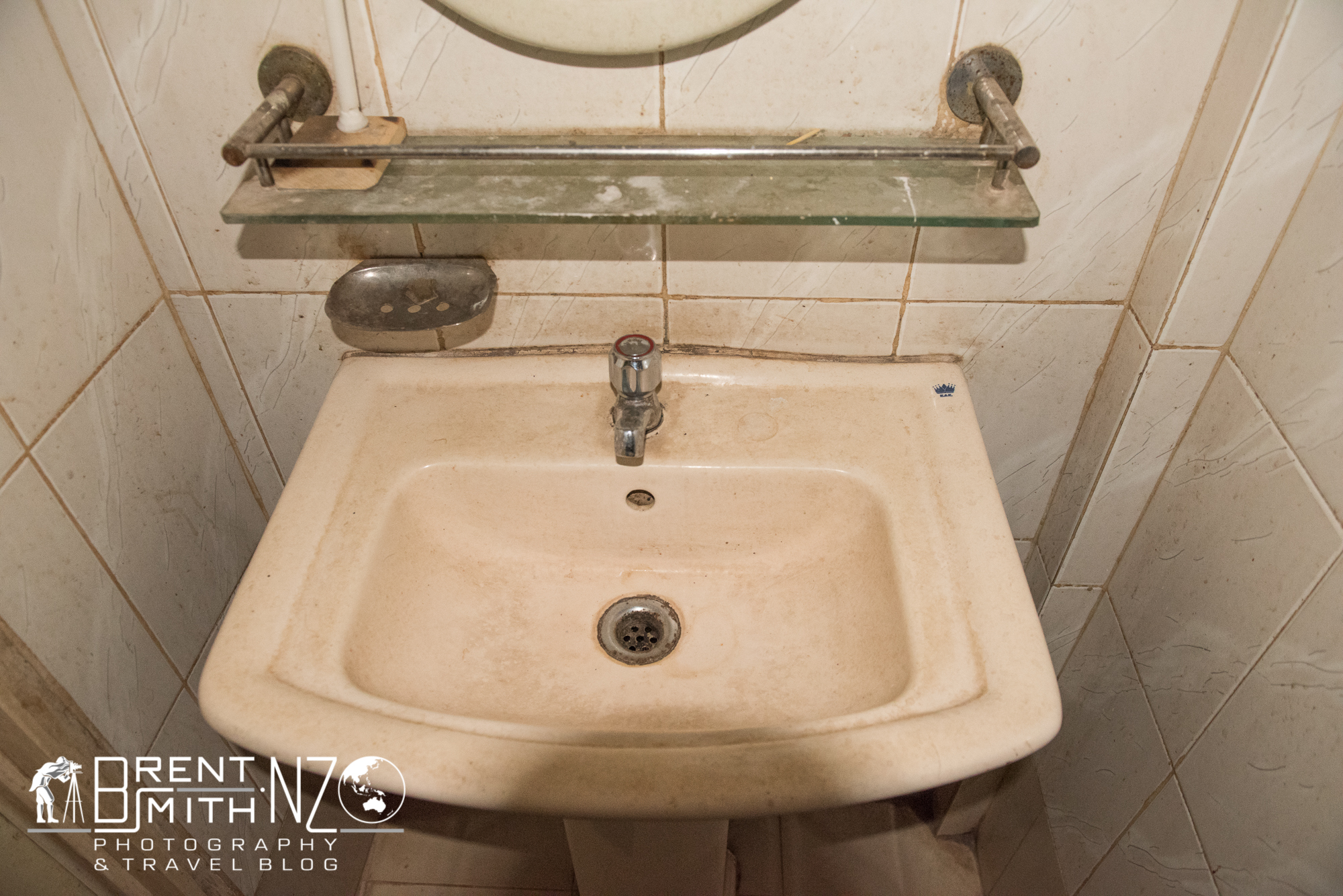 the bedside table was wrecked and filthy, there was a sink coated in dust and dirt and the bathroom hadn't been cleaned since 1742 (I guess), but it was the only place in town so I took it – previous night at the flashest place on this holiday, this night at an absolute tip.
What a change – never mind it had air con and I am resilient. My minders told me on at least 10 occasions to ensure I kept my door locked, and if I did go out of my room, take my valuables and come back quickly as the hotel staff had duplicate keys and couldn't be trusted. I was also warned not to go out after dark. All this did wonders for how I felt about Comilla.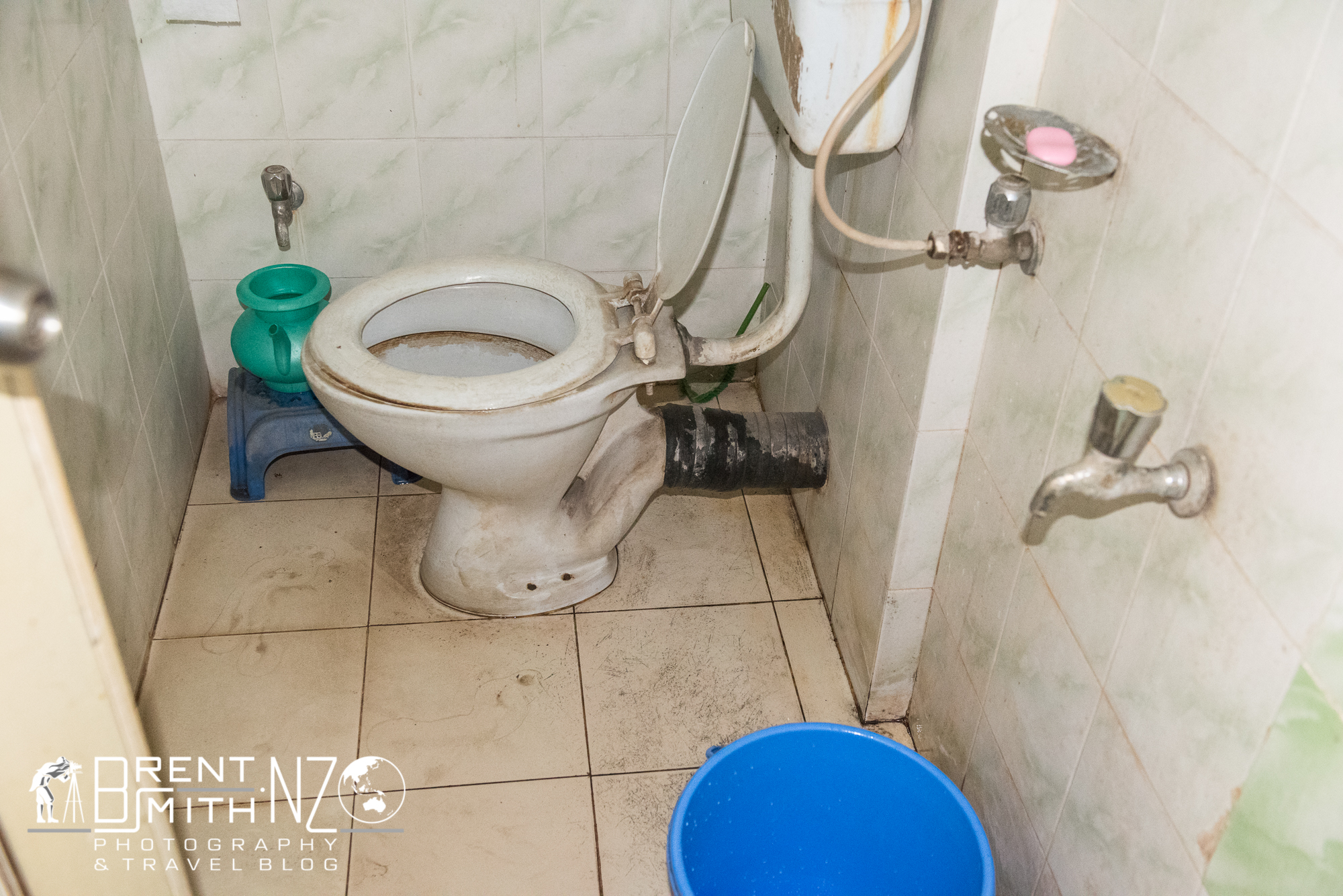 Anyway I had a couple of movies downloaded to watch, and now was the time – locked into my cesspit of a room, unsafe to go out. So I proceeded to watch the film about Amy Winehouse. After 1 hour I noticed my arm was getting splashed on. In did my detective work and found out that the air con was dripping water onto the poxy bedside cabinet and I was getting splashed by he drips. So I paused Amy and went down one flight of stairs to reception (if you could call it that), I gesture for the man to come and have a look which he did. His solution was to put a glass under the drip to catch it. Not good enough I said, so after a Mexican standoff he told me to wait. He then came back with the key to another room and I was shifted.
The new room was only slightly less poxy. But still disgusting. While they were still there I turned on the air con, which they couldn't get to work (turned out it was on dry and not cool setting), the tv wouldn't work and nor could they get it to find any channel. Finally while they were checking the tv I got out my torch to do my usual bed bug inspection – there were plenty – I caught one and told him we had a big problem – I showed him the bed bug, but he either didn't understand – or more likely didn't want to understand. In the end I didn't want to get too grumpy in case they assassinated me so I told them all was ok and they could leave.
After they had left I also discovered the toilet had huge turd marks up the side and was generally gross, the shower towel still had someone elses grime on it, and the sink was (like the other one) completely coated in dirt.
Add to that there were no sheets on the bed and the rubbish bin was half full of rotting food.
Anyway just as I was I finishing watching Amy I had a knock on my door, somewhat cautiously I opened it and there was Shah-Newas Khan who had walked 2 kilometers from his house to ensure I was ok. I mentioned that the room was disgusting and he had that "I feel sorry for you" look, I said that there wasn't even internet – he said there was and that he would go down and enquire about it. He came back and told me which Wi-Fi to hook into – it had a password so again he went down to get the password for me. He came back a few minutes later and told me the password was secret, I said "so I just type in secret do I?" to which he replied in terrible English "no they won't tell it to me because it isn't for Guests"!!  Classic customer service.
Shah-Newas Khan left after confirming all was as well as it could be. He said he would come back in the morning at 6am to take me to the Comilla War Cemetery which was out of town. It was the only reason I had come to this town. But my hardships were nothing compared to those of the Soldiers so what the hell. Shah-Newas Khan told me the cemetery opened at 8am and it would take 30 minutes to get there. After quizzing him on why the 6am start if it only takes 30 minutes to get there, and it doesn't open until 8am, he changed his mind and we agreed on a 7.30am departure.
I knew that bed bugs come out at night, so I put on long trousers, tucked them into socks and put on a long sleeved shirt, then I slept all night on top of the bed with all the lights on so the little buggers wouldn't come and get me. My plan worked and I awoke at 6.40am without being bitten.