Rice with bacon and egg this morning for breakfast on the balcony of our homestay in Kohima, Nagaland.
Kevi our driver turned up at 9am with news that the border crossing into Manipur State, which is where tomorrows destination Imphal is, has just been closed for 36 hours due to civil unrest. Manipur is a part of India that experiences riots, strikes and violence as the local people want to split from India and have independence.
Nagaland also doesn't consider itself to be part of India also, but is far more settled than Manipur in the last few years. But I am not covered by travel insurance in either of these two states as they are deemed too risky to enter by the New Zealand Government.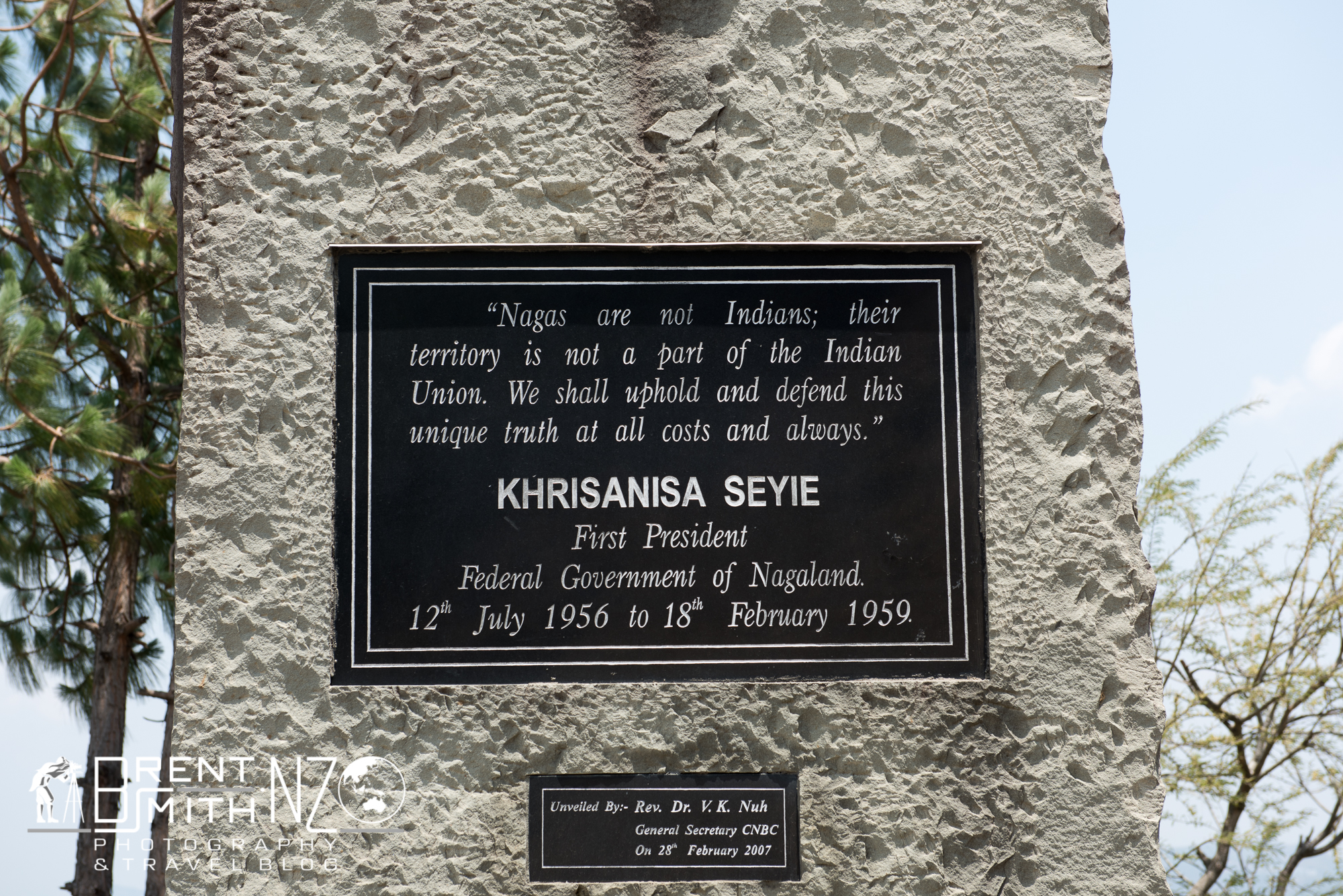 That meant instead of having 3 nights in Kohima and 4 in Imphal we would have to do it the other way around – assuming the violence doesn't escalate and the lockdown extended (more on this later).
So we chatted for a while on what we would do here in Kohima for an extra day. In the end we decided to do what we had planned for today, and to face tomorrow, tomorrow.
So with full bellies we headed out for our drive to a remote Village called Khonoma which is billed as the cleanest Village in the whole of Asia. That was a big statement and we were interested to see if it lived up to its billing.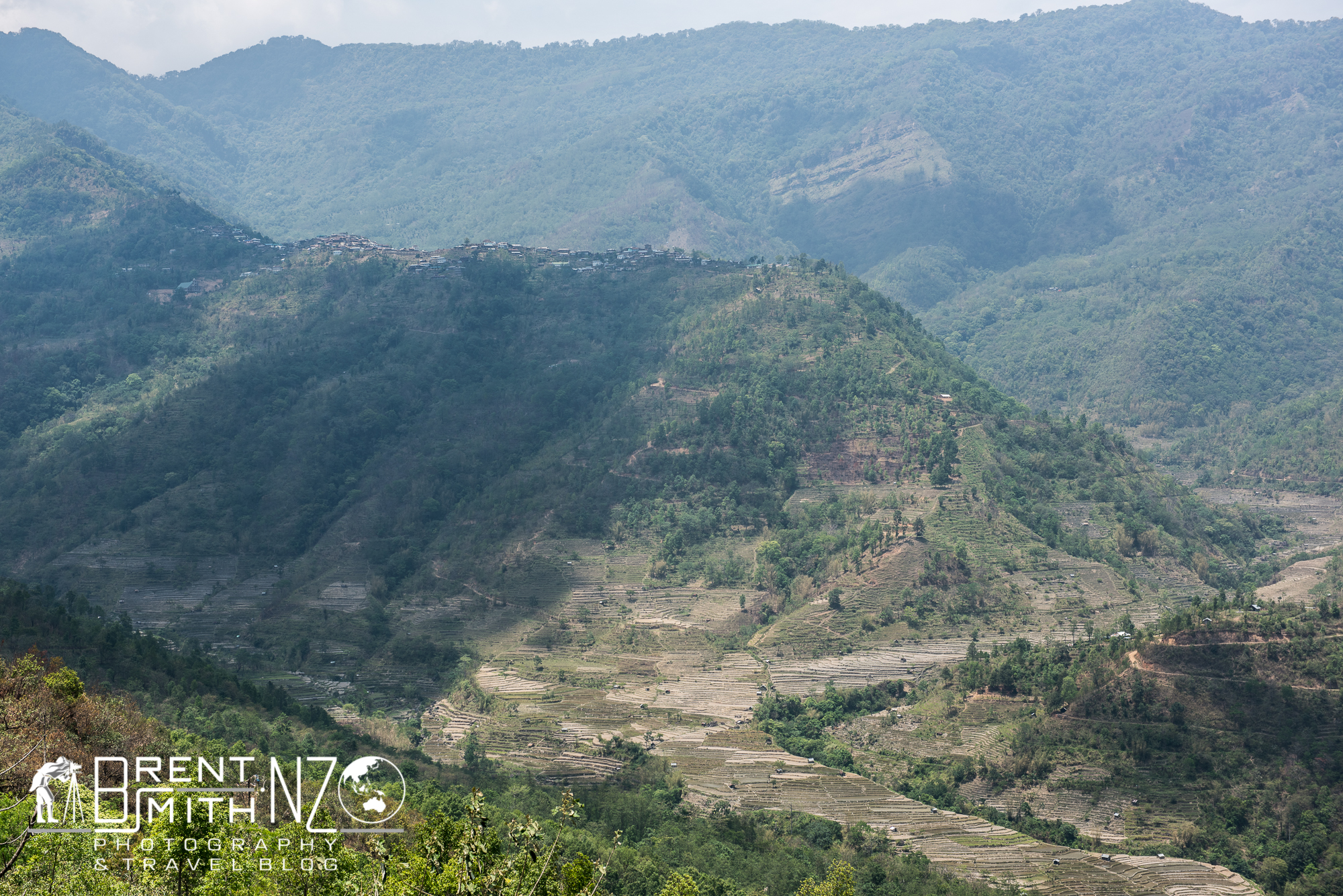 The drive there is along a narrow road, mostly tar sealed which winds its way around the steep hills of Nagaland. Top speed is somewhere in the vicinity of 30kph, so getting anywhere takes time. We stopped at a WW2 memorial showing where a General had his headquarters and also at a lookout which had magnificent views down the valleys below with rice terraces on the steep walls of the valley and across to Villages perched on the top of towering ridges.
From there we drove another 9 ks to what actually was an immaculately clean Village – no rubbish anywhere exactly as promised. Apparently 10 years ago the Government decided that these people would be educated about rubbish and cleanliness. Seems for once they took the message on board, cleaned up and now have a pristine Village, sure they are very poor, but it is clean.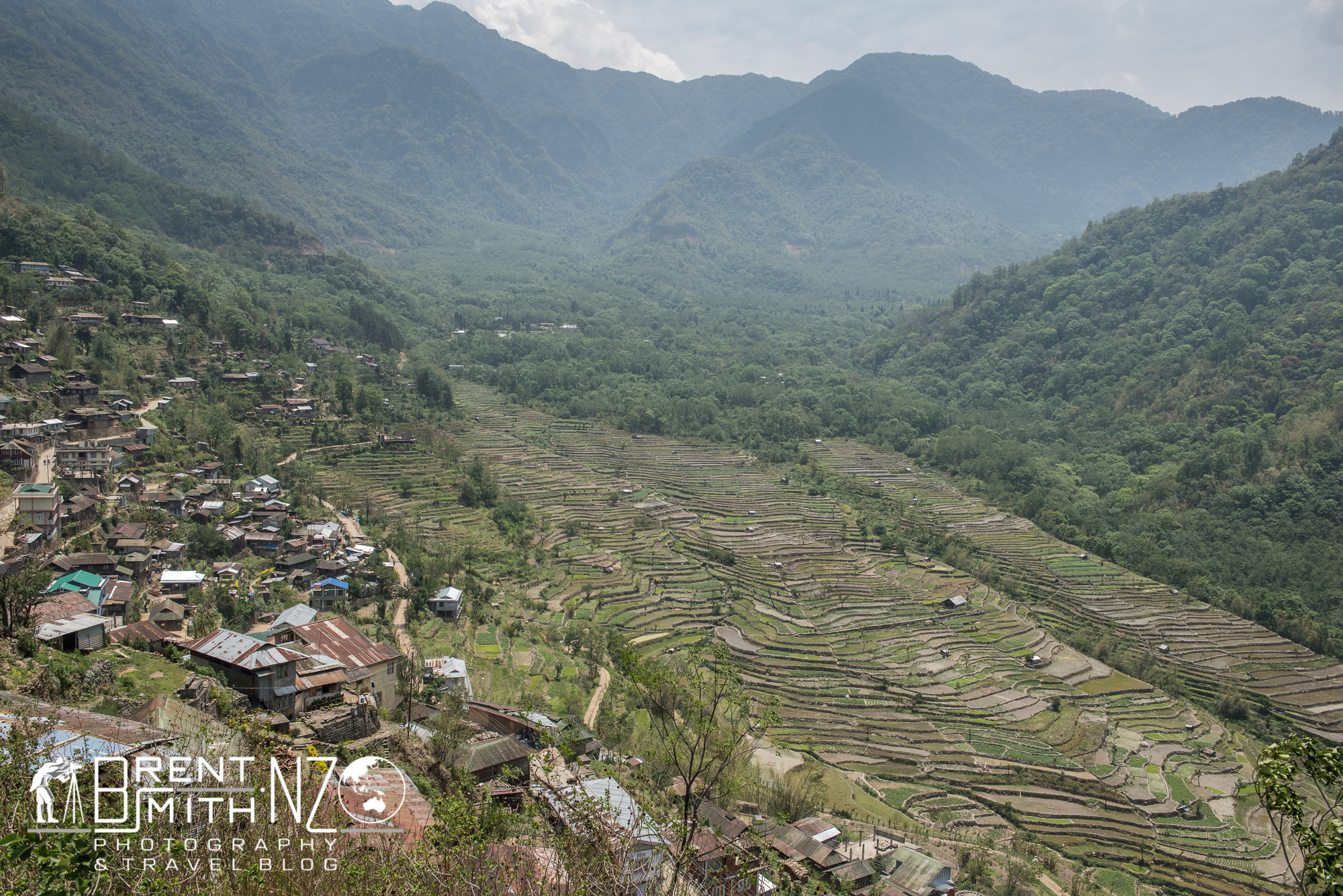 The Village is perched on top of a very steep ridge and down the side towards terraced rice paddies in the valley below. It is a very scenic place – we walked along a path which lead up to the high point where there was a memorial to some British soldiers that were killed there in 1879, and also a lookout. There was a lovely breeze blowing and we sat there for probably half an hour soaking up the atmosphere – it was beautiful – I wish I could have explored the hills around where I could see huts perched way up high, but you cannot do everything first time around.
We then wandered down through the Village, looking at the construction of the houses – most of which are sheathed in tin from pulled apart cooking oil tins.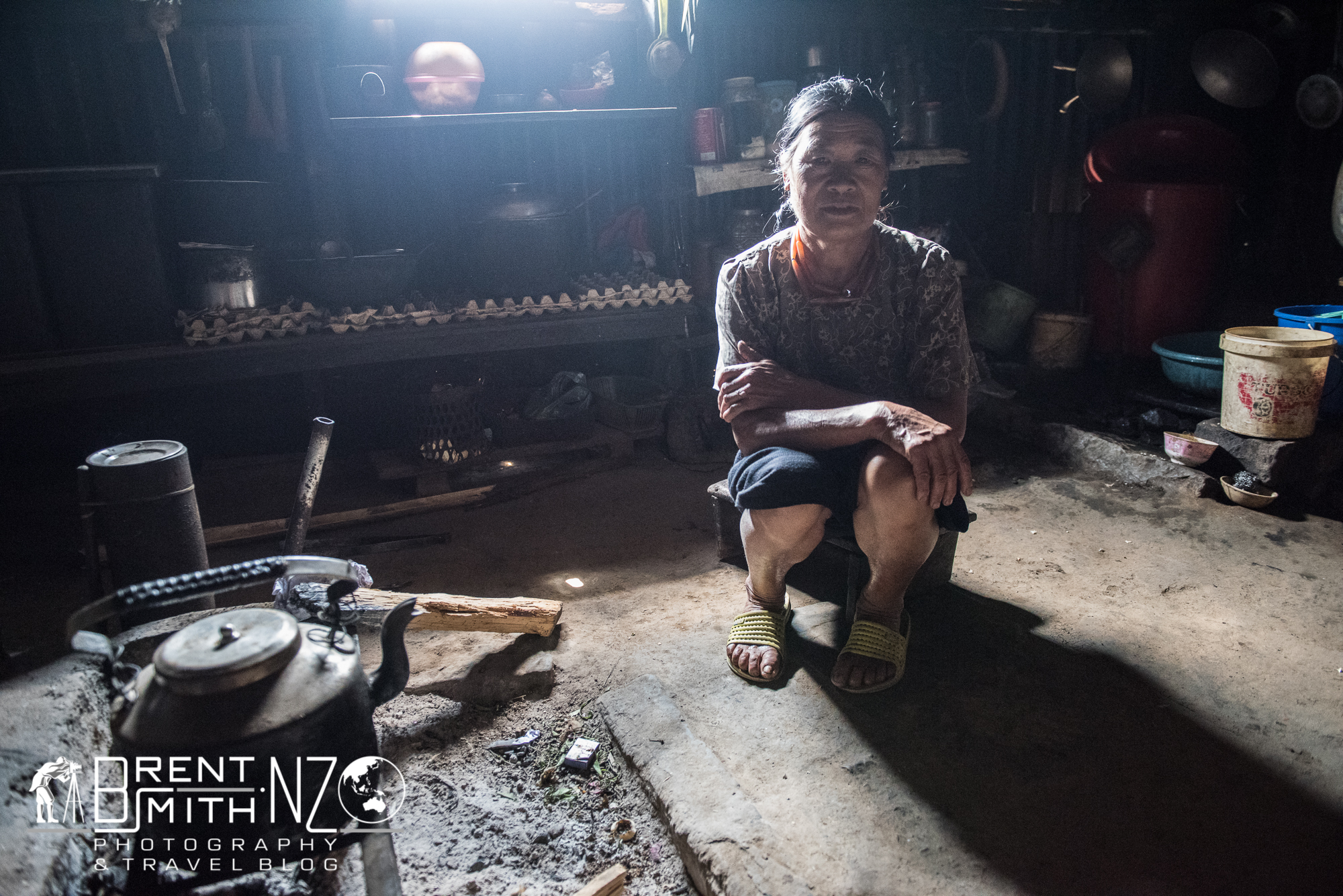 We went into a couple of places including a small Pentecostal church for a look before being spotted by a woman who was looking out a hole in her house which turned out to be a window without glass. She spoke no English but was so happy to see us. She invited us in for a cup of tea which we accepted. Her home had an inside fire, pork hanging drying above the fireplace (much to Vijays amazement as he had never seen that before), and various other interesting things  – a drying rack above the fire was black from smoke tar as were the upper beams of the house. The cup of tea was sweet and refreshing, her hospitality was great and I really wished I could had had a common language to find out more about her life. The joy of travel became apparent again to me in her dark, dirt floor home. She welcomed complete strangers into her home, and was a joy to meet.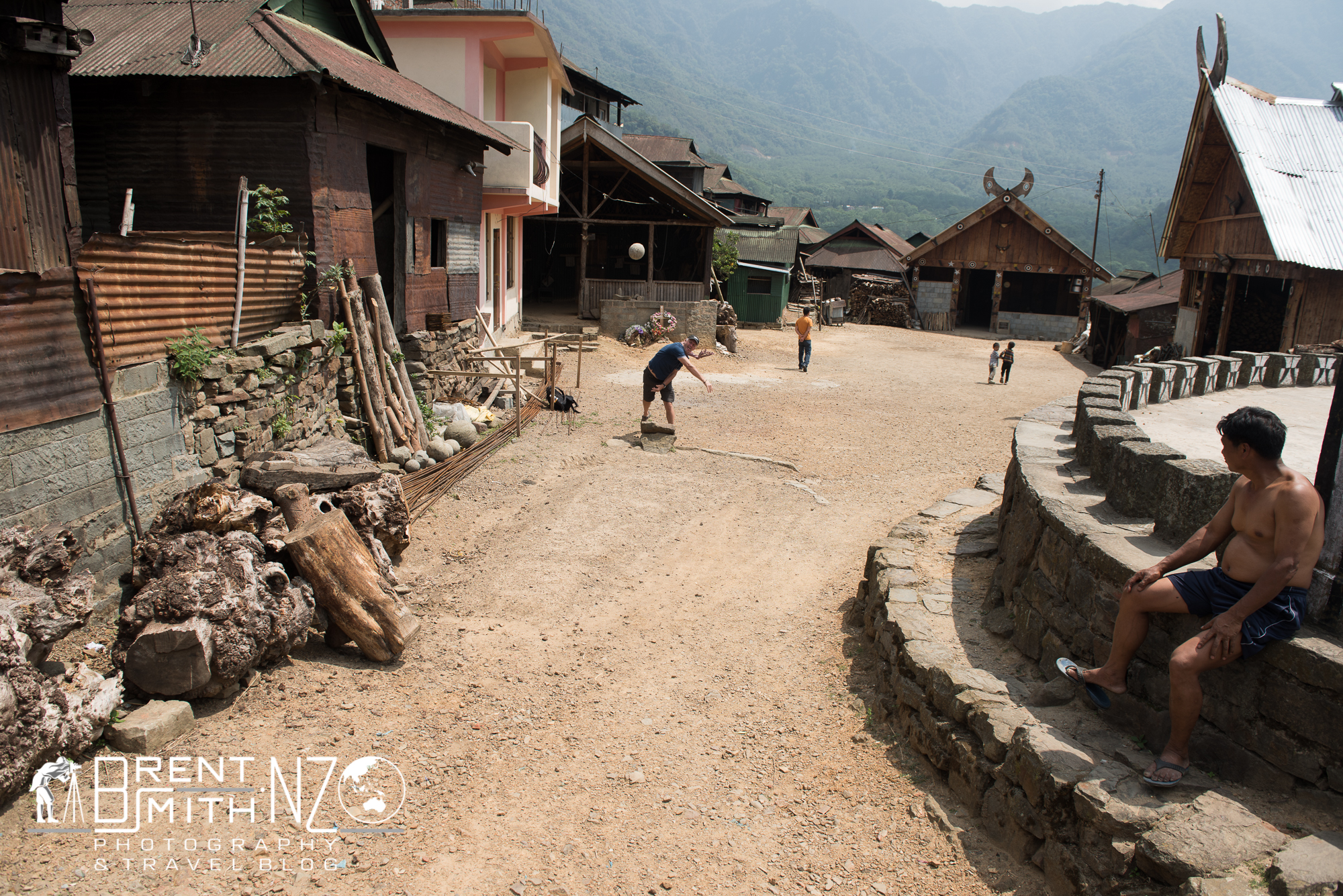 From there we made our way along a bit further to an area where there were an assortment of rocks all shaped like shot puts but varying in size. Seems there are plenty of strong men in the village.
Never one to shirk a challenge I picked one up and threw it shot put style from the correct spot. Vijay and Kevi needed a bit of a push to do the same but in the end all 3 of us gave it our best heave.
At the end if there had been a winners dias I am proud to say that New Zealand would have had gold, India (Delhi) would have had silver and India (Nagaland) would have come third. But hey its never about winning its all about the fun – right??!!
From Khonomi Vilage we headed back into town to visit an old man who had memories of the war and a small museum of WW@ artifacts.
We wound our way around the narrow streets of Kohima and eventually pulled up outside a house which was above the road. There we were greeted by a man who looked 70, he was bright eyed, had great teeth and a very strong handshake.
He was born in 1935 so was 9 years old when the Japanese came. The part of town where his house was , was occupied by the Japanese so he had a lot of contact with them. To my utter surprise he spoke very highly of the Japanese Soldiers. He said they were very nice and friendly to him and his family. The definite impression I got from him was that he preferred the Japanese over the British (despite all the British had done for them over the preceding years). He seemed to have a very one sided memory which I found hard to fathom, but that is how he saw it so it was not for me to quiz him too hard. It was good to hear his story which he told in almost perfect English. He was only 9 at the time but he said it was as clear as yesterday, he is finishing off a book he has written detailing his life which would be interesting, but I do feel that looking back we sometimes feel differently about something  after the passage of time than we did at the time. Especially when it is so many years after the events.
He then took us up to his little museum with an eclectic collection of bomb fragments, mortar shells, badly restored rifles and paper mache heads with helmets on them depicting Japanese and British soldiers. We chatted a little more and then took our leave.
Once back at the Hotel Vijay and I dropped off our gear and after an hour relaxing and me updating some photos we headed out in search of a place to eat.
Kohima completely shuts down at 6.30 it seems. Almost every shop along the main road had its shutters pulled down. It gets dark (and light) quite early here, and the shop keepers all head home.
We couldn't find anyone apart from a KFC type chicken place so we had a crappy burger, fries and drink.
Whilst there I thought I would ask again about the border being shut to Manipur. The man behind the counter said he thought it was open which surprised me. He said he thought it was the opposite end of the border that was shut and not the crossing we wanted to take. He called a friend in Manipur who confirmed that the border was in fact open where we needed to go. This was good news and we could revert to our original plan (if indeed that revised answer was absolutely correct).
So Vijay and I went back to where we were staying and told the girl who managed the place what we had been told. She called a friend who was a bus driver that goes there and he confirmed that the border is all good.
So we cancelled the driver for tomorrow – originally he was going to take us to Imphal, but then it turned out his permit only allowed him to go part way, then we would have needed to transfer to another driver, who again could only go part way, before transferring for a 3rd time to another driver who could get us right into Imphal.
The cost of all that was 3500 rupees (about NZ$75) so instead we found out there is a bus that for approximately 300 rupees each will take us the whole way. So tomorrow we have to go to the bus ticket office at 6am, get a ticket as soon as it opens and then board at 7.30am. No idea what it will be like but that's part of the experience. It takes 3-4 hours I think.
So tomorrow night all going well we will be in Imphal in the State of Manipur. That is where we fly out of on the 3rd May. Fingers crossed!!
Till next time, from Kohima, Nagaland, North East India at 9.15pm on 28 April, Ciao