So as you will see from the title I have now traveled from Dhaka, Bangladesh to Kolkata (Calcutta) India.
I had organised for a random that I had met on the street in Dhaka to take me to the airport in his car for a fraction of what the Hotel wanted to charge. He was cool – he drove like Lewis Hamilton on steroids. We were only doing up to 80kph, but it was through the streets of Dhaka – he was erratically changing lanes, swerving tuk tuks, rickshaws, dogs, humans, buses and many other objects that I never saw. He spoke no English and I showed no fear – I think he was definitely trying to scare me, but my lack of reaction made him go faster, which in turn made me more determined to not show fear which made him go faster.
In the end I am not sure whether he ran out of bravery, skill, horsepower or became worried about crashing his crappy car, but he then slowed down and I felt I had won my game of auto chicken. Or maybe it was just because we arrived at the airport?!?!
Anyway what was apparently (so the hotel told me) supposed to take about 45 minutes took 20 and I was at the airport in plenty of time. When I return back to Bangladesh on 5th May I am going to Sylhet. I was going to go by train which takes roughly 6 hours but to save time I thought I would find out about flying there and back instead, so I headed to the Bangladesh Airlines counter and for $45 each way made the booking with a very efficient ticketing man.
Then I headed to the queue to get my boarding pass to Kolkata which used to be called Calcutta. I stood in the queue for 40 minutes then as I was near the front the counter man said all those going to Kolkata now need to swap around to the other side. Of course everyone at the back of the queue was able to peel off and scoot around to the other side faster than those of us at the front of the queue who were hemmed in by those behind us. End result was I ended up at the back of the queue and had to wait another 30 minutes until I got to the front again. From there I dropped off my bag and got my boarding pass.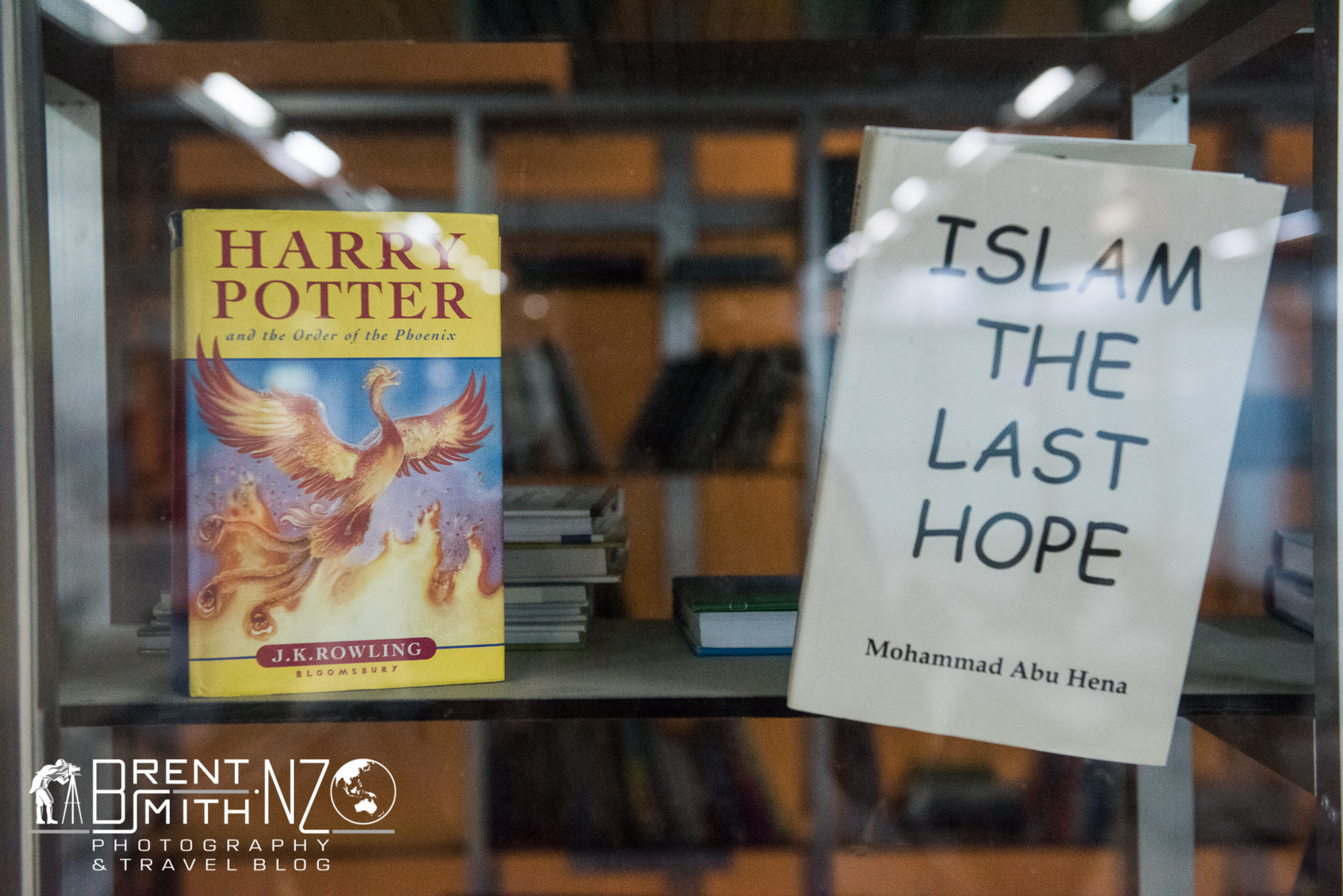 I only took one photo all day – what I thought was an interesting shot of two books like by side – I wondered if they were in a library whether they would both be in the same aisle??
The flight left on time, it is only a 45 minute flight to Kolkata where for once I had already booked a hotel (Ethnotel) close to the airport (I was flying out next morning to Dimapur in Nagaland, Eastern India) I decided to walk since it was only 2ks, but it was so hot that I flagged down a man on a rickshaw, and had him take me to the Hotel – a good $1.50 investment.
My room at the Ethnotel was very good and although I had arrived early in the day I only had to wait 30 minutes till I could take residence.
I went in and relaxed until my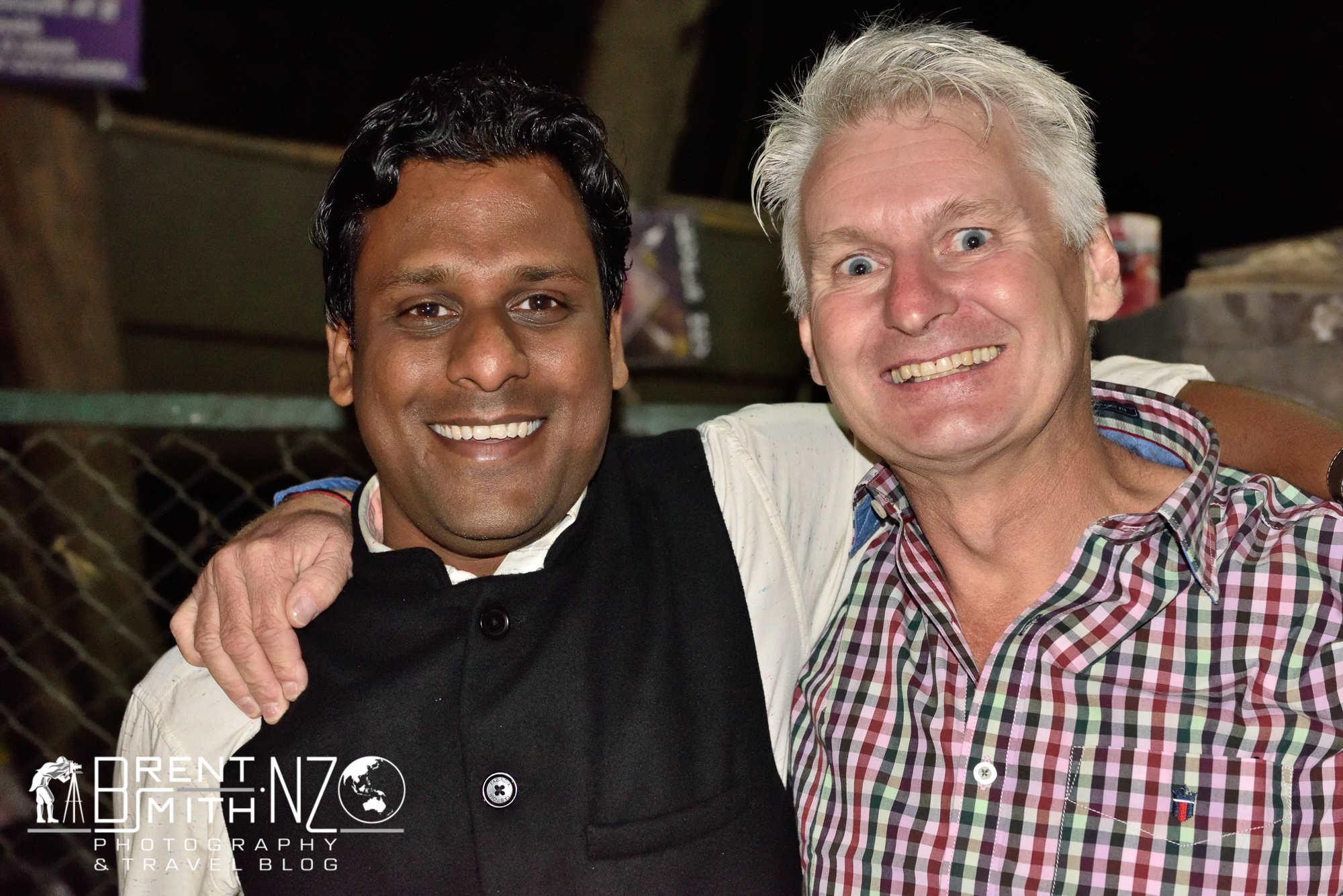 Indian mate Vijay's plane came in from Delhi just before 7pm. When I was last in Delhi he ambushed me just outside the terminal so I decided to get revenge – I hid just outside the hotel awaiting his arrival. He turned up in a taxi and just as he entered the hotel doors I shouted and grabbed him from behind – I feel the fright I gave him was better than what he gave me so I was a happy winner.
Vijay is like a younger brother – he is just like me in a lot of ways except when he was created he got the brown paint brush and I got the white one.
We chatted in our room, had dinner and chatted more and then hit our respective beds at midnight – in the morning we are off to Dimapur in Nagaland – something I have long wanted to do, and Vijay was excited to come along.
So today was a new day another Country.Tomorrow I have high expectations – will they be met?? – time will tell, and so will I.