Today I had three tasks – get a train ticket to Comilla for tomorrow, Chittagong Commonwealth War Graves Cemetery and in the afternoon the ship breaking yards 26 ks north of Chittagong.
Task 1 was easy (sort of), as usual everything is in the local language not English (funny that since I am Bangladesh), I knew where I wanted to go and a helpful (well he was, then he wasn't, then he was again) railway policeman came to help as he saw my confusion at where to queue.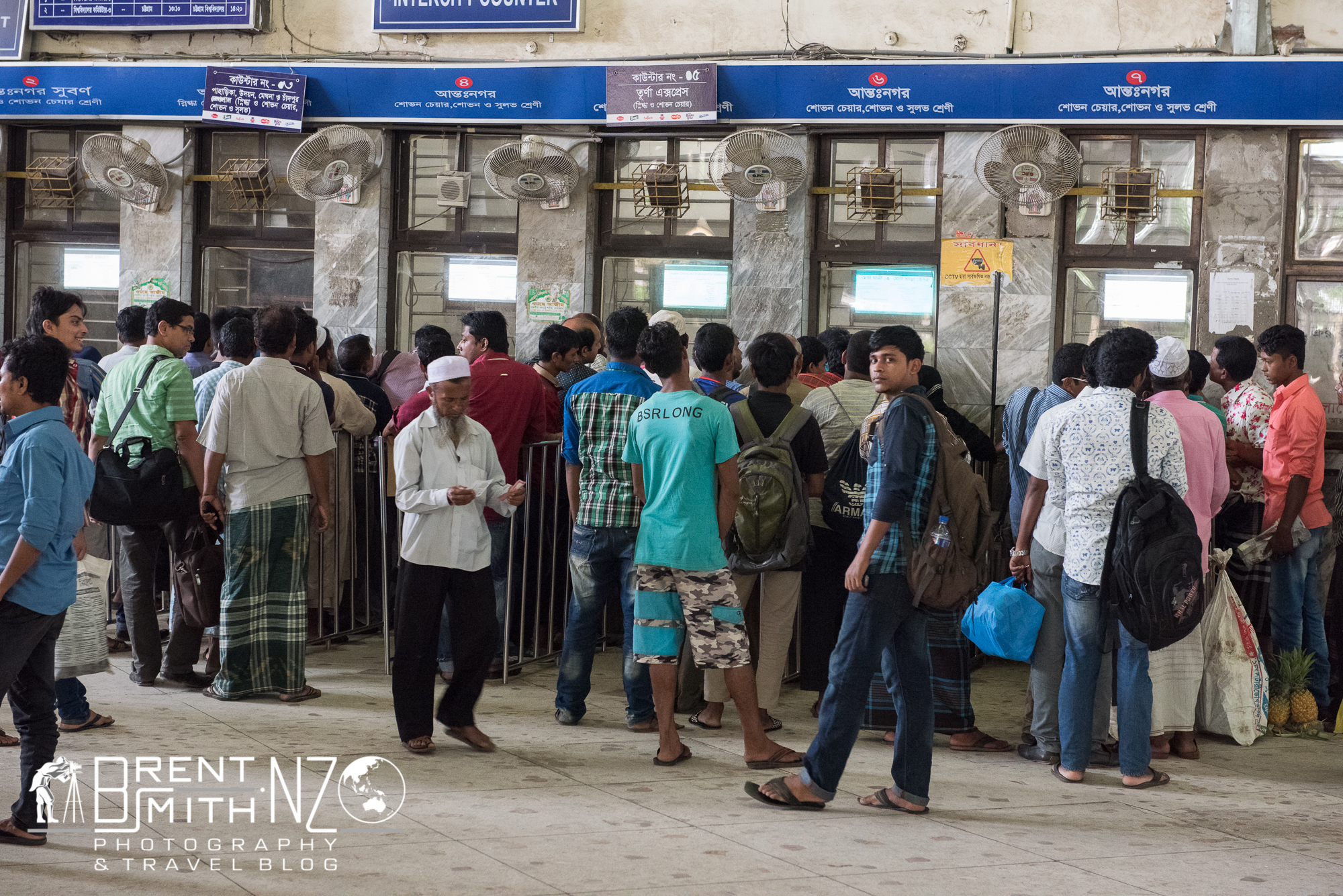 He took me to a queue, then pulled me out of it and directed me to another queue, then he did that again, and then he directed me to stand out of all the queues altogether. None of this helped my confusion. Then he directed me to stay where I was while he disappeared for 5 minutes. He returned and told me that there was no train to Comilla tomorrow but I could go somewhere else. I tried to ascertain if I then needed to catch a bus from where I was going (according to him), to Comilla, and was it far. After about 10 minutes of trying to explain my question we both gave up and he disappeared again, again directing me to stay where I was. Luckily for me some young guys who spoke a little English came over to see what the problem was. I explained that I wanted to go to Comilla but apparently couldn't, did they know where I was now having to go, and was it far from Comilla?
Then the police man came back and had a 10 minute conversation to the young guys in their language. Back and forward the conversation appeared to go and in the end the young guys said all was sorted, follow the railway policeman, which I did. He took me through some gates and through a door which lead to the inside of the ticketing counters. Through the ticketing windows I could see the queues of people trying to get tickets, and I was behind the ticket issuers. One of them spoke a little English and after a short conversation produced a ticket, with an opening window seat for me to take photos out of, on the 12.30pm train to Comilla – I have no idea what the policeman was on about telling me there was no train and that I would have to go somewhere else. I tried to give the ticket issuing guy a tip for being so helpful but he refused, funny that the policeman held out his hand for a tip, which I gave him!! Anyway task 1 completed.
Time for task 2, I had google earthed the Cemetery and loaded the co-ordinates onto my GPS so I knew where it was.
Only problem was explaining that to the rickshaw man. I played charades for 10 minutes to no avail, so in the end pointed the direction I wanted to go and told him to get peddling, which he did. My route sent him in as direct a line as I could find, but included some small hills which he had to get off and pull me along as he didn't have the power to ride me up the hills. I did get off a couple of times to lighten his load, and in the end with only 300 meters up a hill to go I paid him (plenty) and he was discharged from service. I walked up the hill and then down the other side it turned out.
There I found the cemetery, but unfortunately the gates were locked at 12 noon for 2 hours, and I was 15 minutes late, they open again at 8am tomorrow, so that is now a task for tomorrow morning, at least I know where it is!! I couldn't wait as I had task 3 – the ship yards to complete.
Task 3, the ship yards are approx 26 ks north of the city, you cannot get an auto there as they are only permitted to go as far as city gate, there you can get another one that has a permit to only travel beyond city gate, but they are dangerous on the open road with trucks lumbering past, so my plan was auto to city gate, then get a bus beyond to near where I wanted to go, then either walk or auto it again to the breaking yards area. All went amazingly well, I was almost at the city gates when the auto driver gestured for me to get out and into the front of a vehicle in front because he said it was going where I wanted. So I jumped out, paid him and transferred to my new transport, a small truck with me, the driver and another dude squashed in between us. I watched the K's count down on my GPS and stopped them once we were close, paid them and got out. Then I found an auto, played charades with him until he understood where I wanted to go and we were off.
2.5ks later I was where I wanted to be – the yards are huge areas and any outsider is forbidden entry. Workers die regularly in accidents, they are working in deep mud hauling items off ships and exposed to asbestos from the pipe lagging in the ships, add to that welding, steel falling as it is cut etc and it is a dangerous place.
At high tides ships that have reached the end of their working lives are driven at high speed onto the beach, when the tide drops the ships are accessible to the workers who wade through the mud to start cutting them up.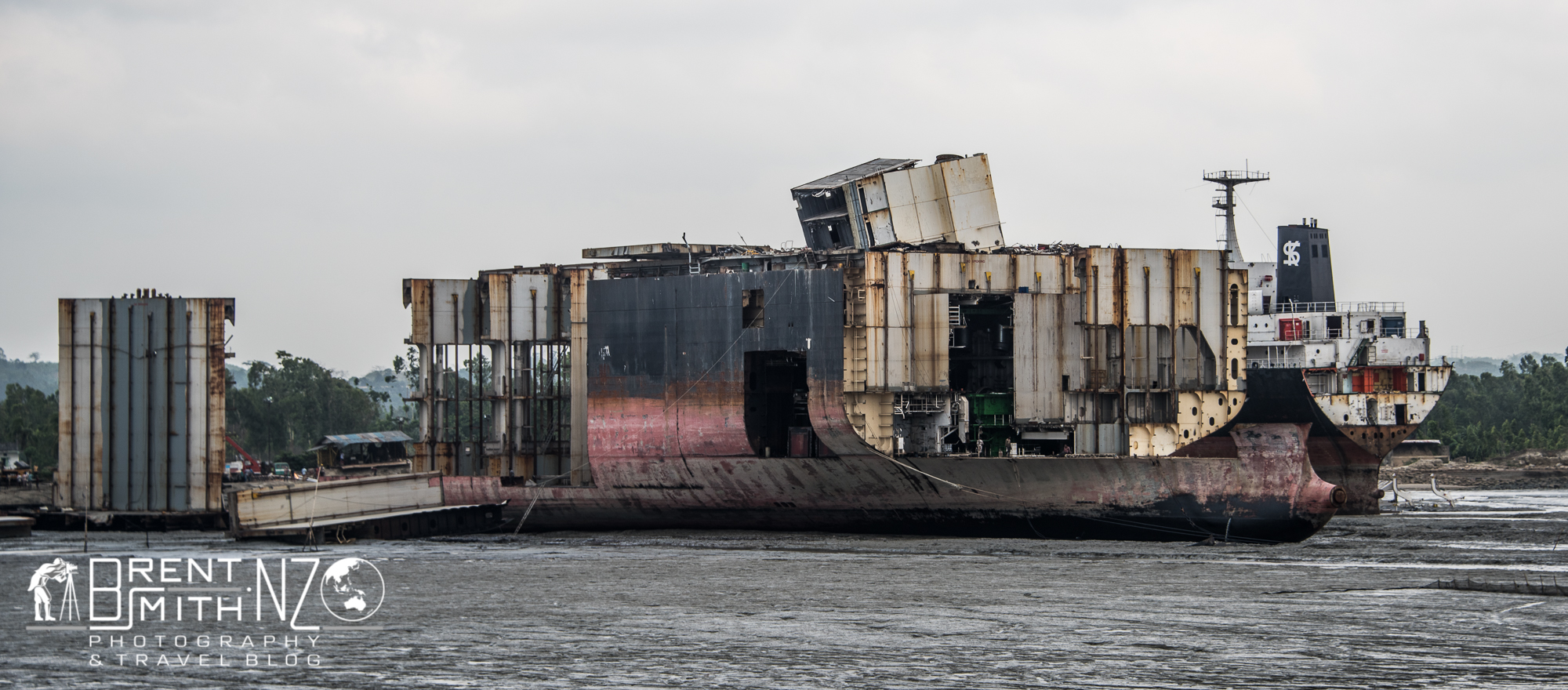 These are big ships – it takes 2 months to pull them apart, the steel is then melted down as scrap.The towns around the area are selling all the items salvaged off the ships from ladders, steel tanks, sinks, toilets, life jackets, life boats etc etc – if it can be removed and sold, it is. The balance is scrap steel.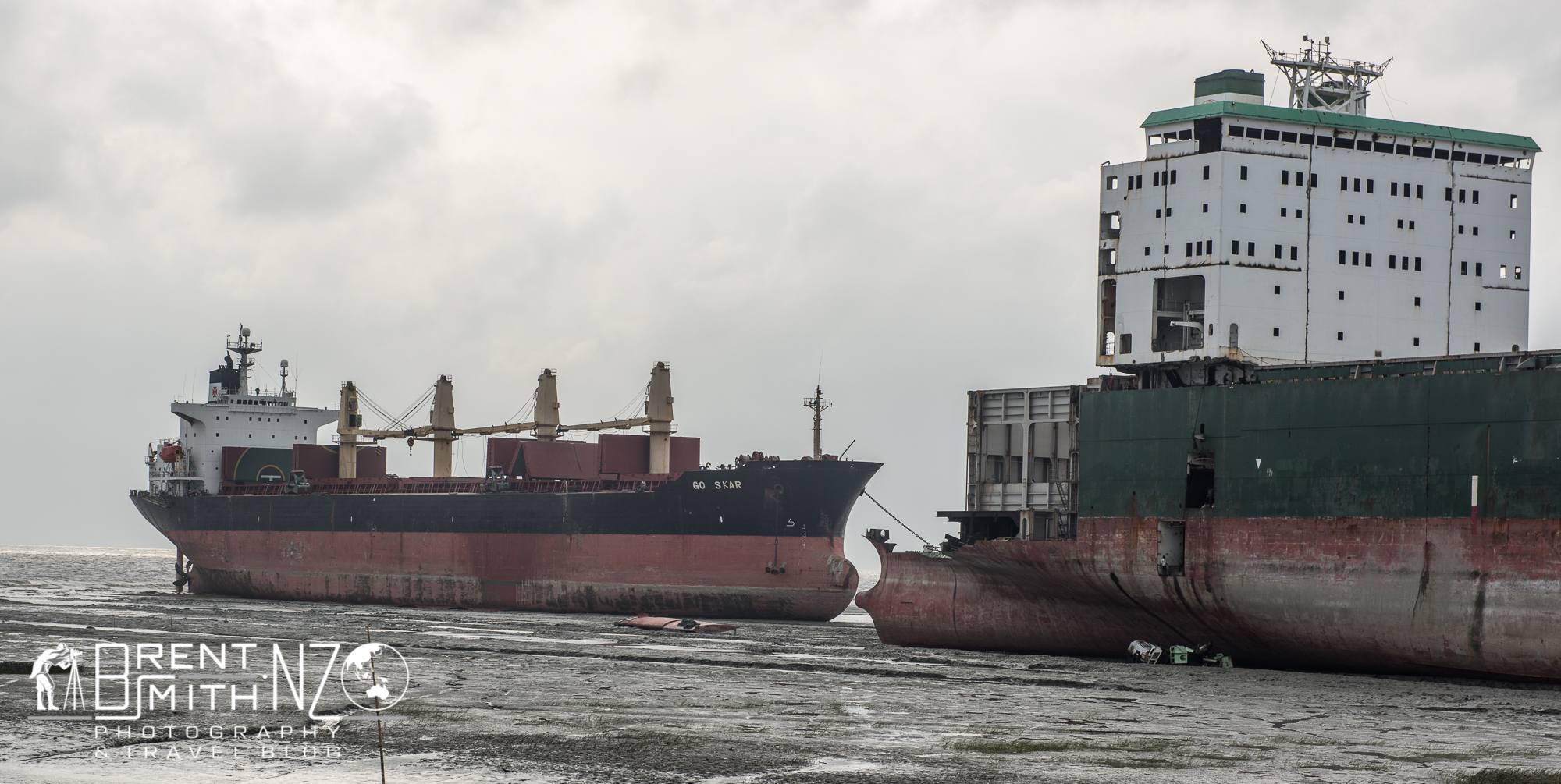 Since approx 2008, entry to the area was stopped, they had bad press and didn't want the outside world seeing what was happening. But I had google earthed the place and found a jetty that seemed to protrude quite a way out among the ships. My plan was to access the jetty first to see if I could get some photos, then hire a boat to sail out and amongst the ships. They could stop land access, but not from the sea I reckoned.
My jetty plan worked well and I got some great shots, but unfortunately it was low tide so I couldn't get a boat to take me out – there is a wide area of mud where the big ships are sitting at low tide and to drag a boat the 500 meters to the sea would have been too hard, besides it was really windy and there was a rough sea anyway.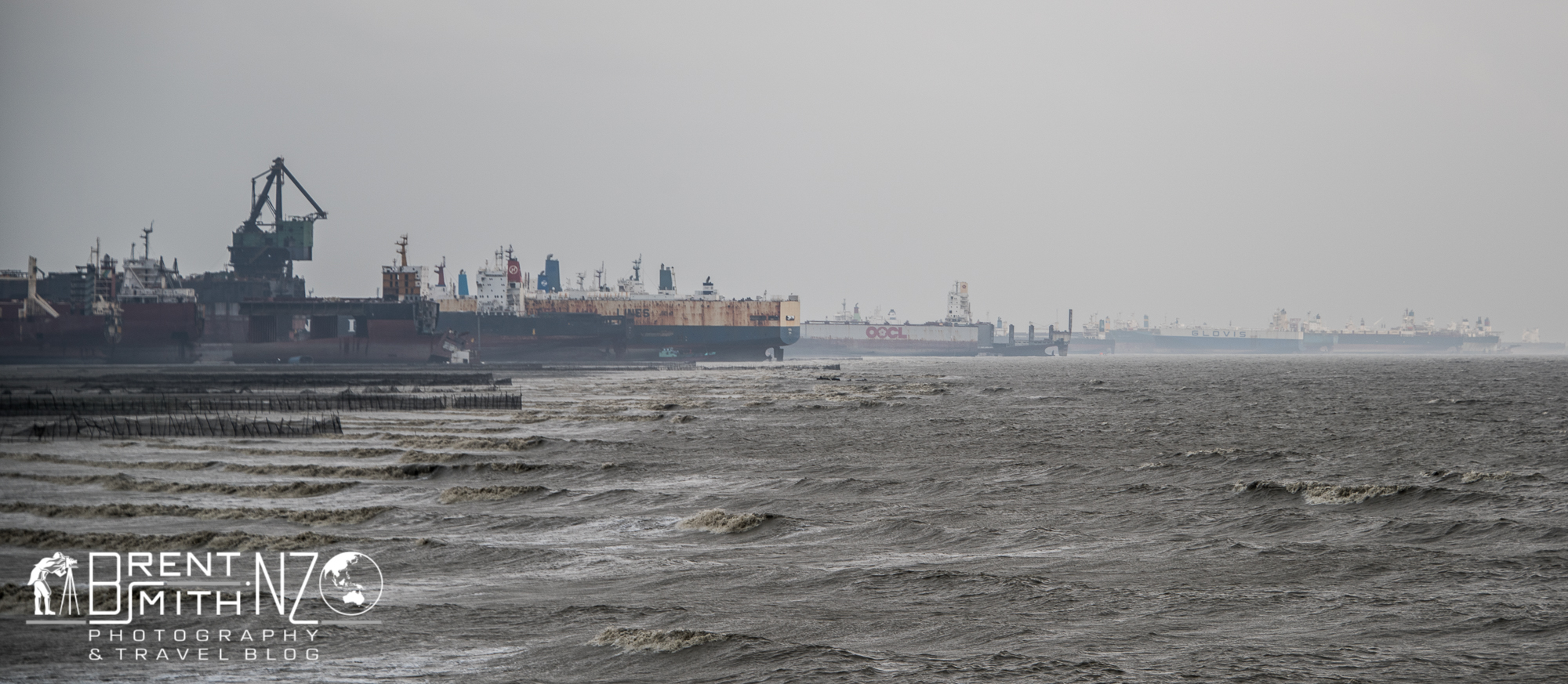 The ships on the beach stretch for probably 3-5 kilometers, I wanted to see more and see if I could get onto a beach somehow. I haggled for about 30 minutes with various people and eventually found someone that could take me where I shouldn't be, I wanted to travel parallel with the beach to see if I could see the boats head on and maybe find a jink in their security so I could get some up front and dirty shots real close.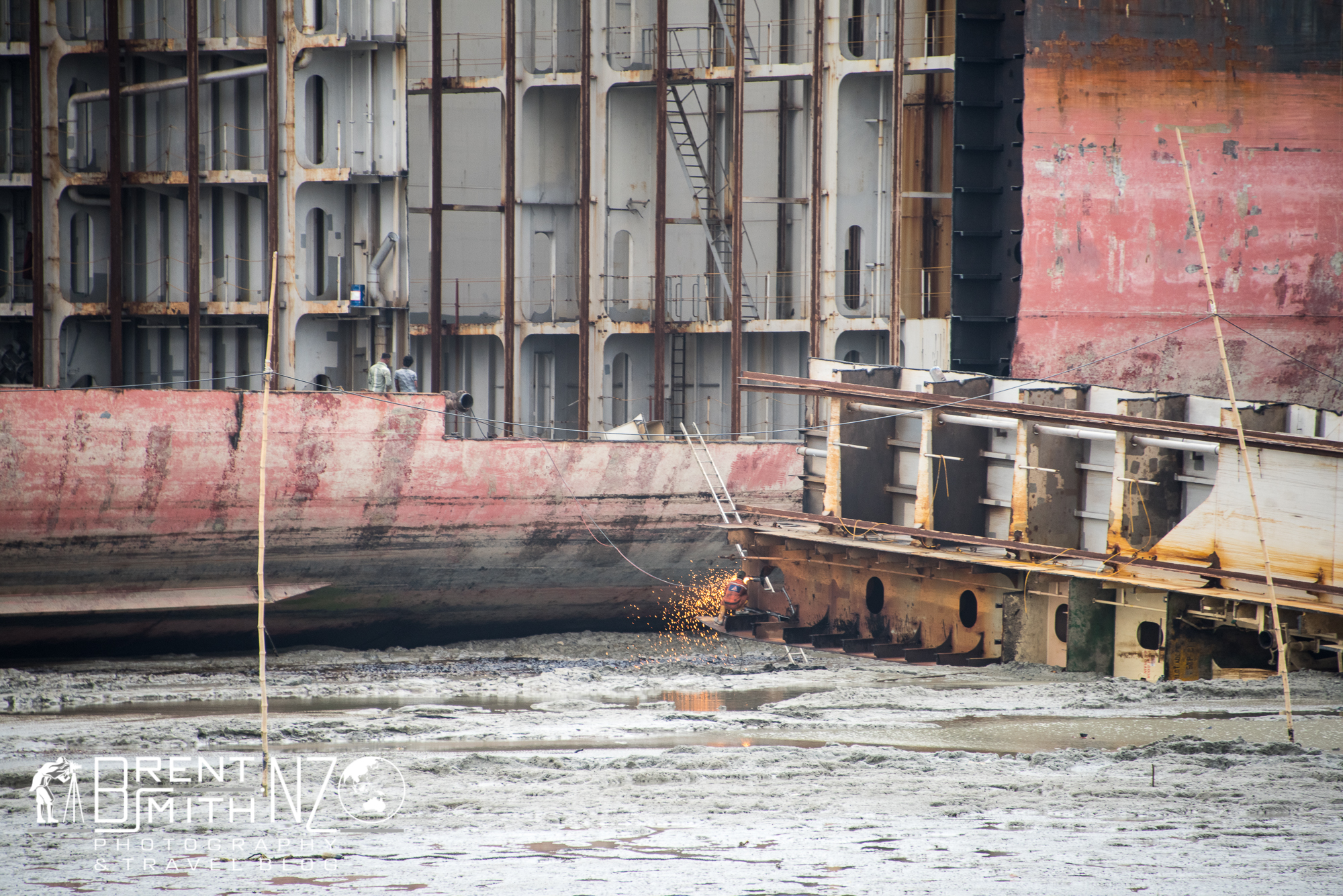 Eventually after travelling through villages I saw an opening that would lead to where I could see a huge ship quite close. I stopped my driver and headed off on another spying mission.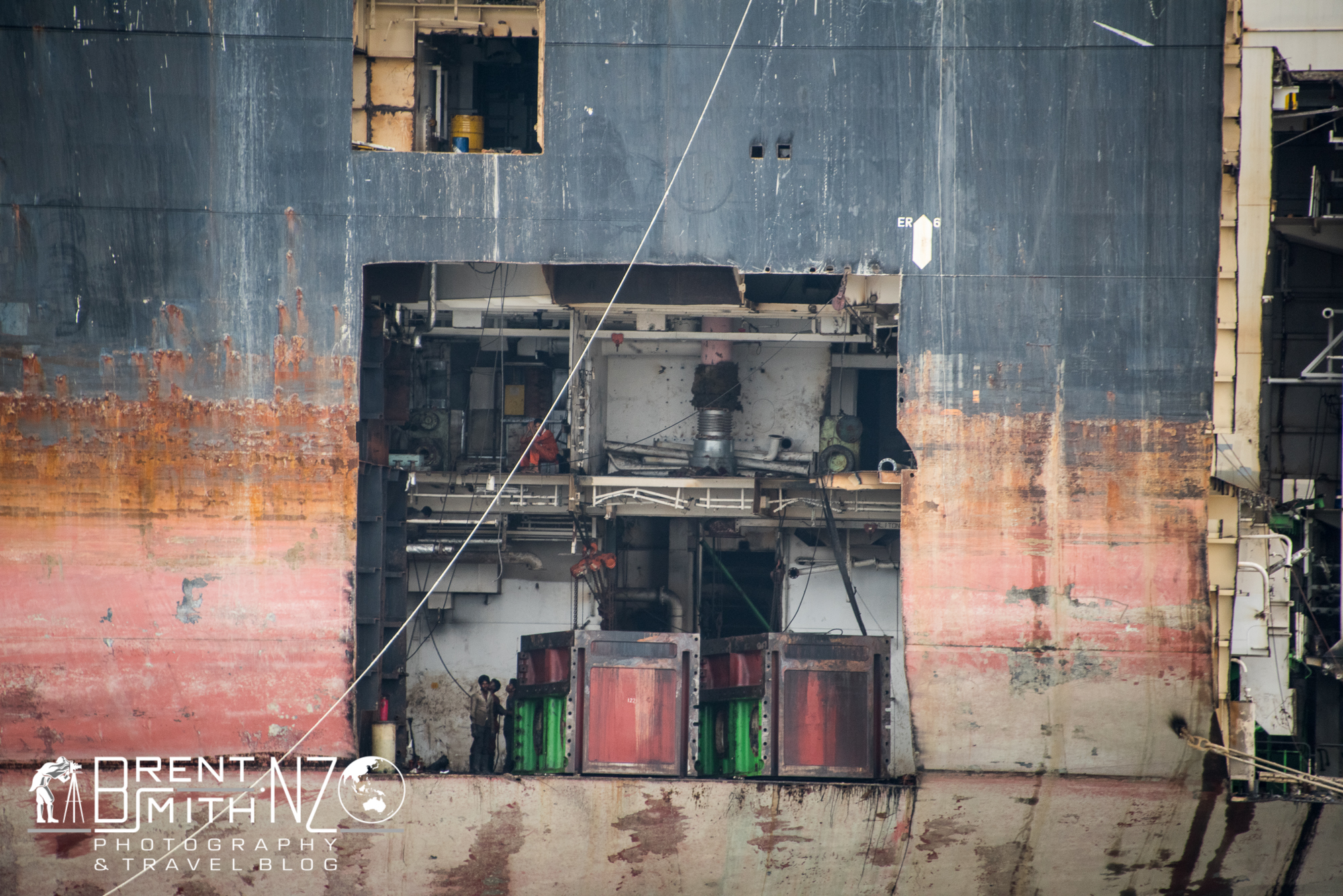 Things were going really well as I skulked along getting closer and closer, but unfortunately I was spotted by some kids who came running over making a hell of a noise, more kids arrived and before I knew it I had probably 20 kids crowding around saying hi. That in turn attracted the attention of some men who came over to see what the commotion was all about. Ooops!!
They were surprised to see a white man with a camera and started jabbering away, I am pretty sure asking me what was I doing there?? Then another senior dude came over, and he spoke a little English.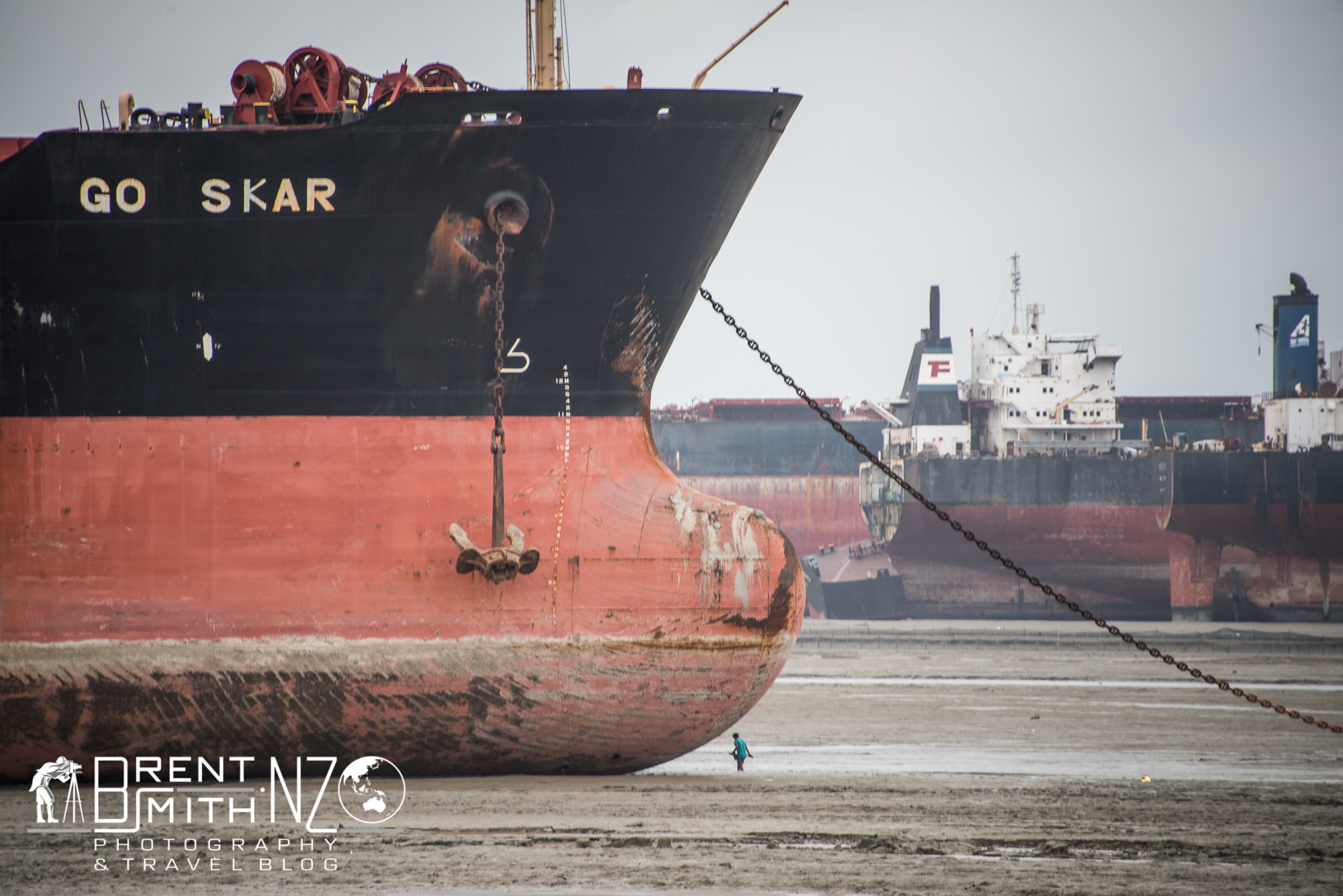 I told him that I was a maritime engineer and that I had been told that if I came down the road I had that someone would be able to show me around, I told him that I investigated shipping accidents and that I had gotten lost on the way to where I was supposed to be, hence being in the bushes. I said I was interested in finding out what issues with ships they identified from a structural point of view as they dismembered them. I said my area of expertise was structural steel issues. He bought it all hook line and sinker. We discussed numerous items of the integrity of ships hulls, issues relating to steel, bulkhead strength, deck strength, and other construction issues. If things got too confusing for me I just pretended I couldn't understand him because of language, which was true for almost the entire conversation anyway.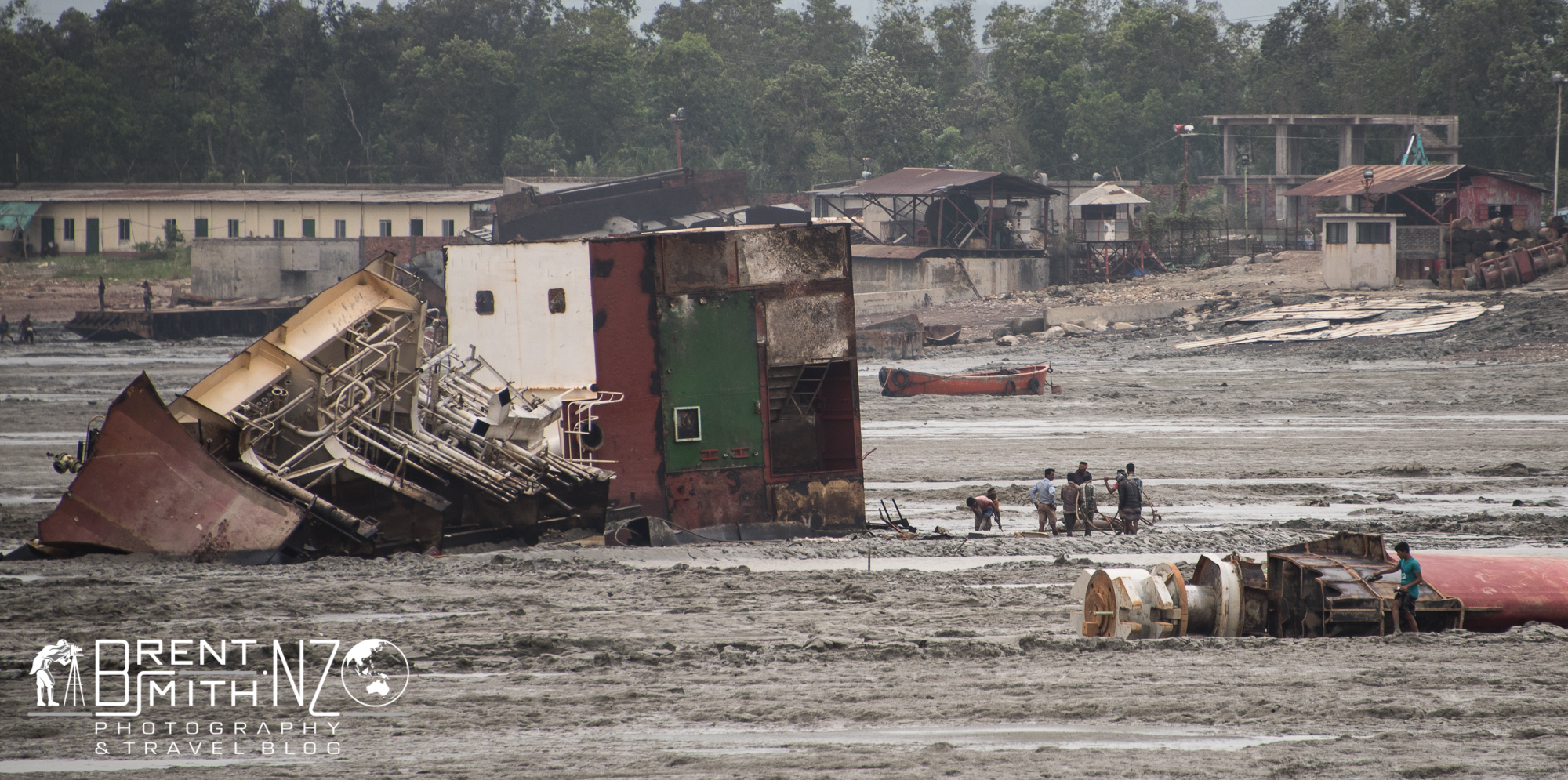 Luckily for me I have read plenty of books on naval battles so was able to draw on the things I have learned there to bluff my way.
Anyway – they invited me into the area directly in front of where there were 3 huge ships being broken down right in front of me – the light was great for photography, there were workers hauling big steel cables through the mud, there was sparks from welding – all the drama and spectacle a photographer could ask for, and all at a forbidden site I had gotten in to, but would they let me take photos – no way. I tried everything to get some, but they were absolutely determined that there would be no photos, I tried bribing them even, but to no avail. So for 20 minutes I stood there watching it all happening and apart from memories I have no photo of that yard close up.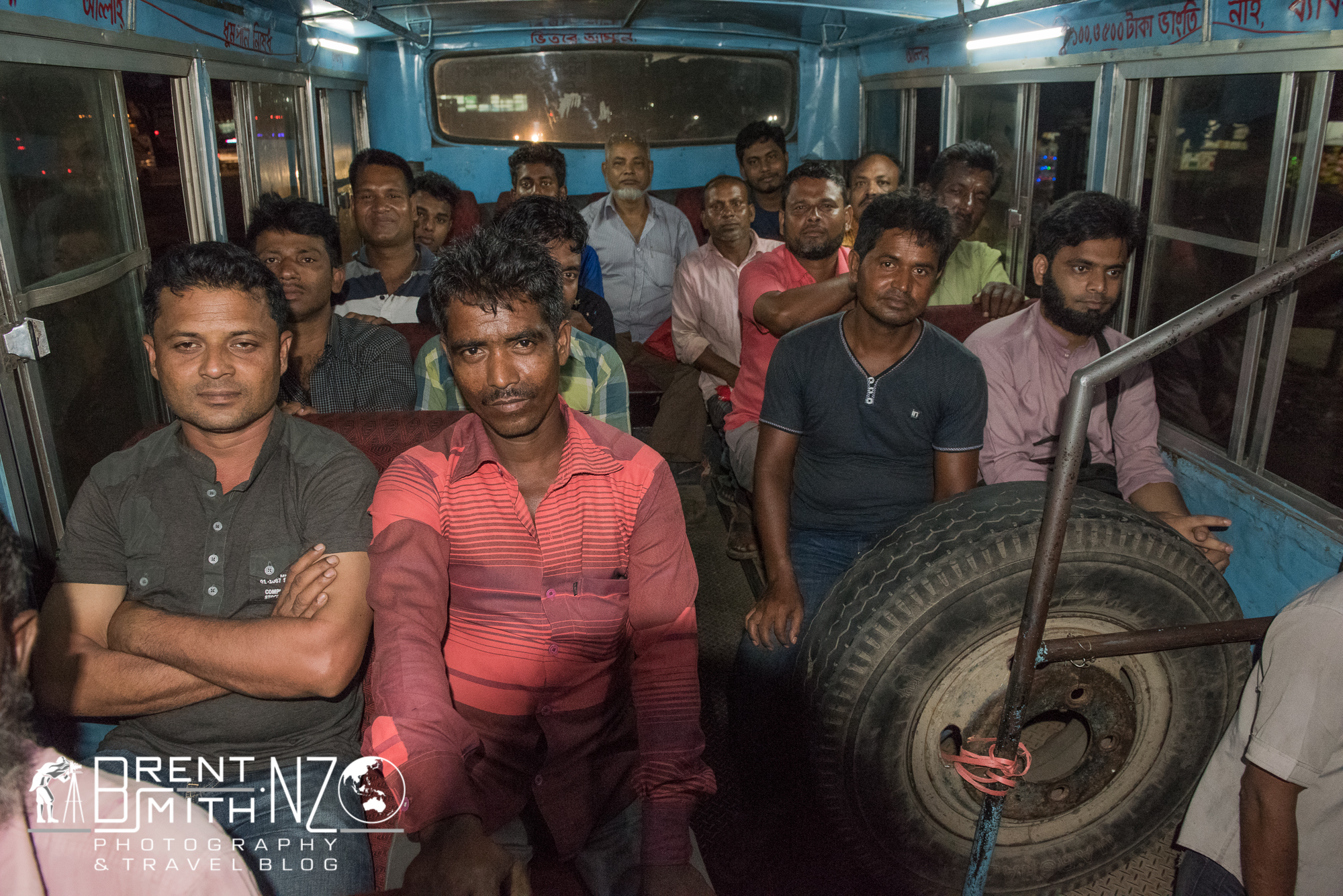 From there I went back to the main road and flagged down a bus, it was now dark and the bus was crowded. The bus took me back to the City gate, and then I got an auto back to the Peninsula Hotel where I am hopefully going to get my photos all up to date then hit the sack.
It was an amazing sight to see, nothing apart from being there actually does it justice. I was very please I made the effort to find my way there.
Another amazing day over.