When I arrived yesterday at 3.30pm I was told there was a problem with the internet but it would be fixed in 10 minutes. I went to my room and had an afternoon siesta until 6pm, when I awoke I went to the office and said still no internet?? – they said the IT man had told them it would be fixed in 10 minutes. At 7.40pm when I went to my interesting three dish dinner they said it would be fixed in 30 minutes. When I finished dinner they said it would be fixed in 15 minutes.
In the end I gave up and went to sleep.
When I woke after a surprising good sleep bearing in mind the hard bed I checked the internet. Still nothing, so I resolved to have breakfast and check out to find another Hotel with internet where I could upload photos and send and receive emails. After all it's not a third world country !!!
I packed my bags and went down to have breakfast, on the way I stopped at reception, said "still no internet" and threw my hands in the air for dramatic effect. They replied – yes internet all going now. I tried my phone at reception and it worked fine – but not in my room on the 5th floor. After breakfast and doing more investigative work it turns out that there is a ground floor and 3rd floor router – someone had turned off the 3rd floor router, the internet had come on at 10pm, but with the 3rd floor router off there was no signal on the 5th floor.
Now that the internet was working I didn't need to leave so will stay tonight on my rock hard bed again.
I decided that I would stay two nights in Sylhet, then catch the train to Srimongol which is the centre of tea production here. It is a 3 hour train journey, so first stop for the day was the train station. It took me 30 minutes to walk there, where I bought my usual Shivon Chair ticket next to the window. It was 100 Taka (NZ$1.80). Shivon Chair has no air conditioning but has a fully opening window (usually without any glass to open!!) The train departs at 8.30am leaving me most of the day to explore once I get there. I will catch a local bus back to Sylhet next afternoon, then stay one more night in Sylhet before starting my long journey home.
There were some kids playing cricket in the concrete area beside the railway station – I watched them for a while before being asked to bat – I faced three balls, hit one well, completely missed one, and my third shot was going to be real impressive except I must have been too far back near the stumps because when I bought the bat on it's downward swing to belt the ball I smacked the top of the stumps pulling two of the three stumps out of the ground – to the great mirth of the kids and teenagers assembled – they though it was hilarious and we all laughed.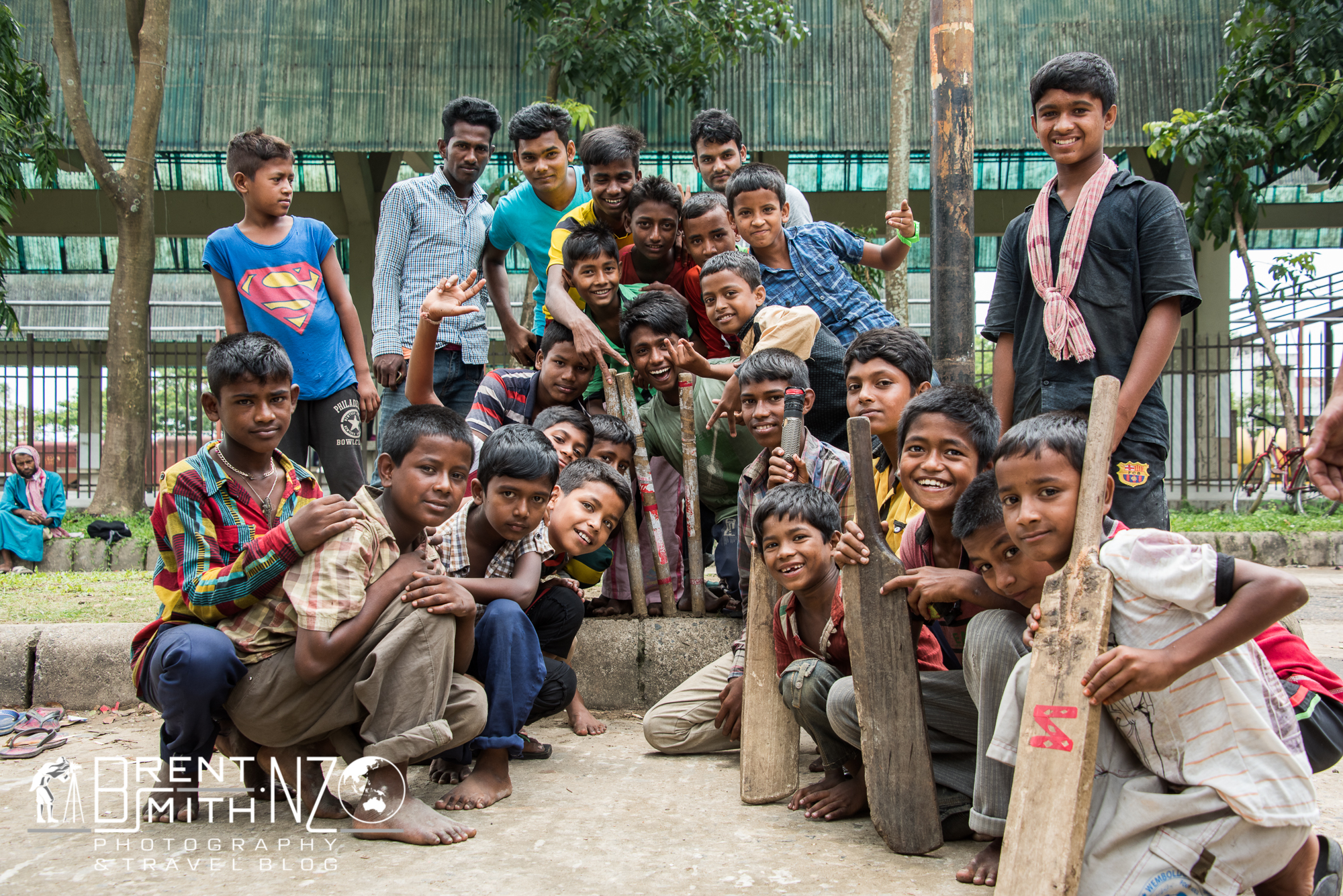 Following that they all assembled for a couple of photos, there was much laughter and banter – until I got a tap on the shoulder from a clean cut man who spoke English. He told me he was Police Special Forces (undercover), that he was watching out for me and that I should leave. I quizzed him as we were all having such fun, but he was insistent, so I took his advice, bade farewell to the kids and walked off – the kids stayed there as I walked towards my next planned destination.
I didn't see where the Police guy disappeared to and wondered if he was following me somehow. I suspect he was stationed at the Railway Station, and that he remained there when I left.
From there I had spotted on the internet a tea garden in the middle of town – it looked like a large green area had been left in the middle and not built on, most other sightseeing things are miles away from the city so I decided to see the Tea.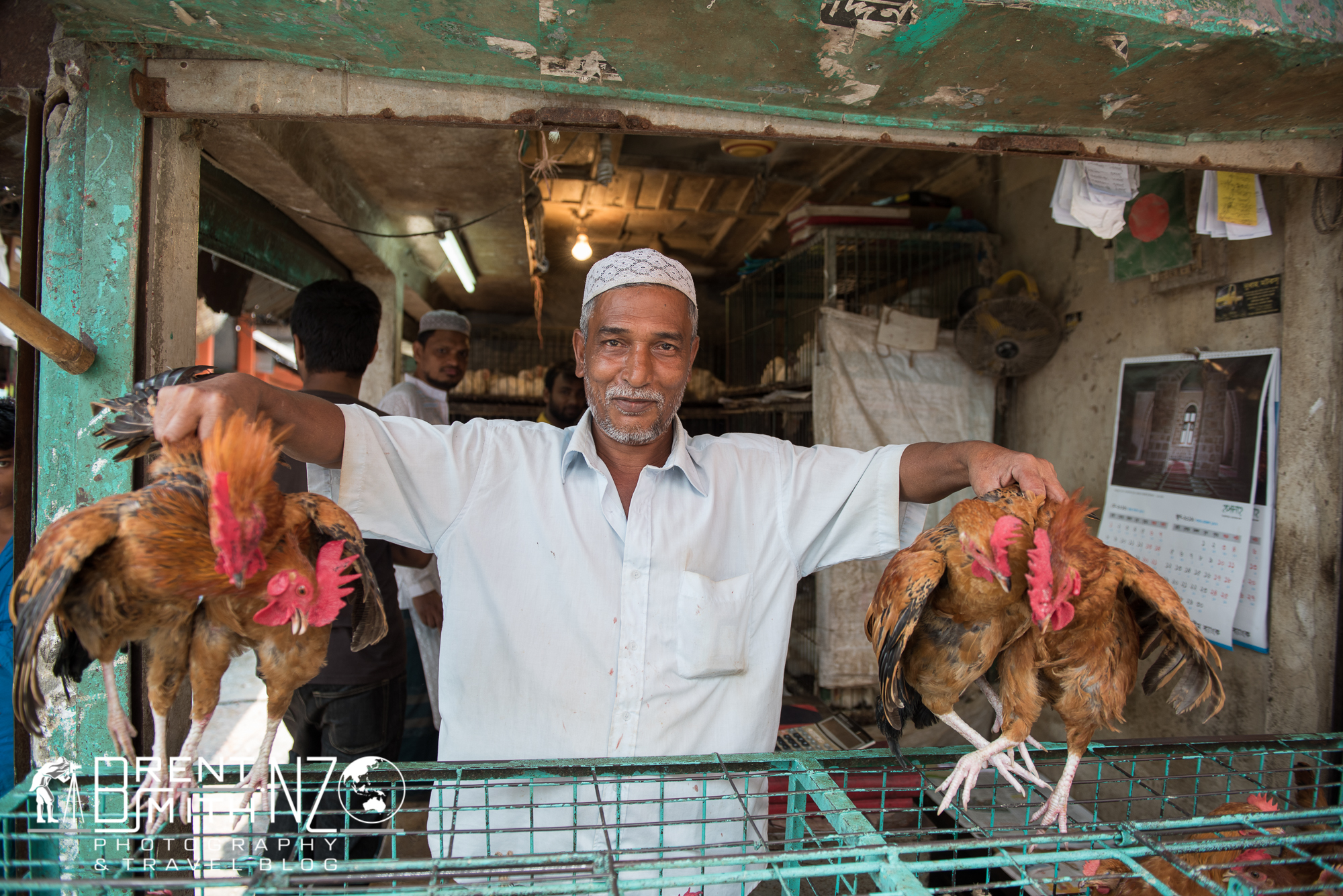 I wound my way down little lanes, and busy streets. I found a market where I watched them Halal killing chickens. Once they have been killed the young man that does it all pulls all the feathers etc off the carcass like he is skinning a rabbit, I thought they would pluck them but he just grabs the skin and with a clever technique pulls all the feathers etc off in one motion, a bit like taking of a jersey!!
As gruesome as some might find it I wanted to see the slaughtering process so I knew what was done – if I ever found my self face to face with a chicken that I needed to kill I am wiser now than I was this morning.
I chatted (sort of) to the fish mongers, vegetable salesmen and meat sellers, everyone was so friendly, but as usual I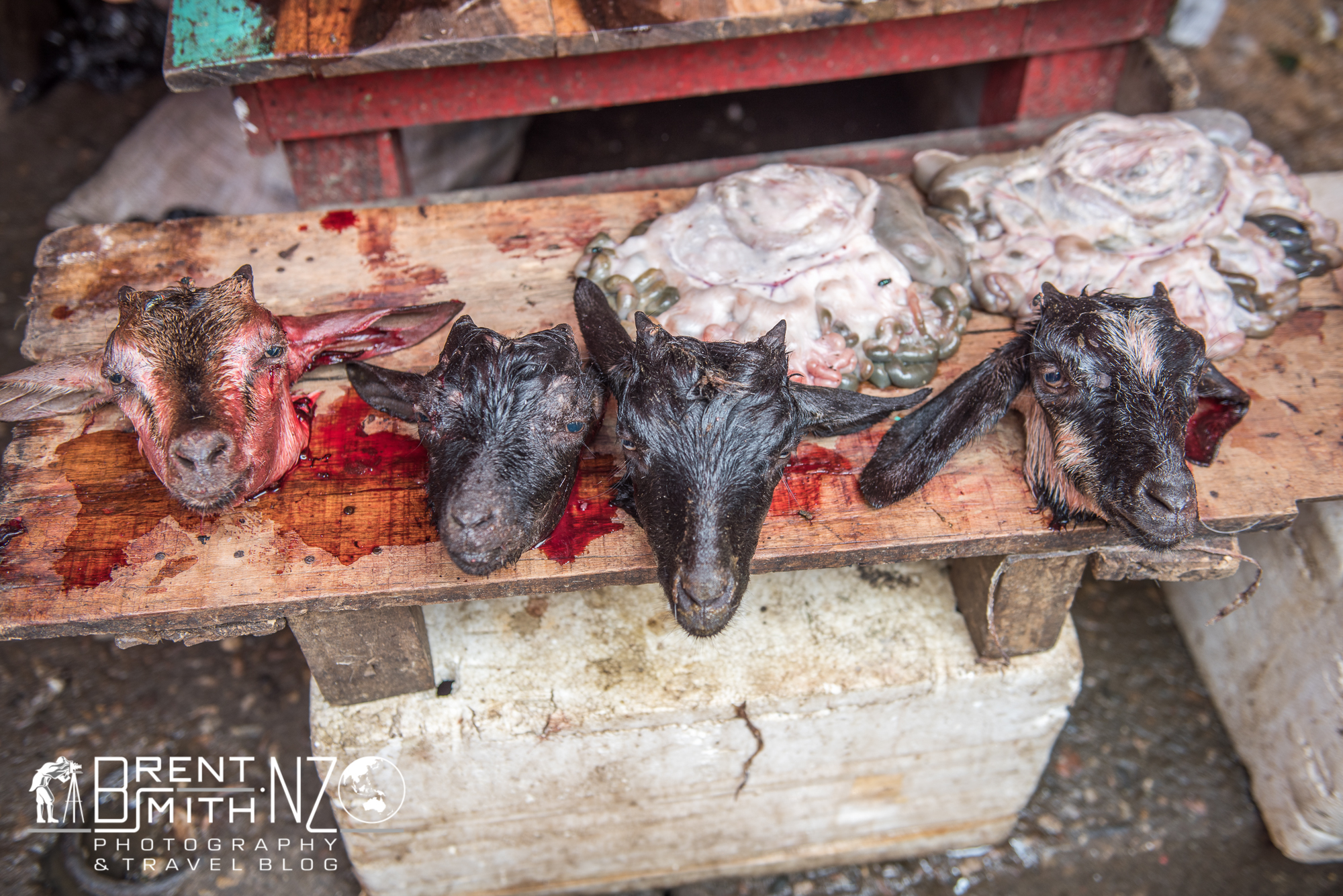 take precautions of stopping regularly to ensure no-one is following me, and taking different detours or even doubling back. I never forget to be fully aware of who is around me and always scan the faces of those near to ensure as much as possible that there is no obvious problems looming.
I passed by a Mosque that was full of men doing whatever they do, bowing and calling to Allah.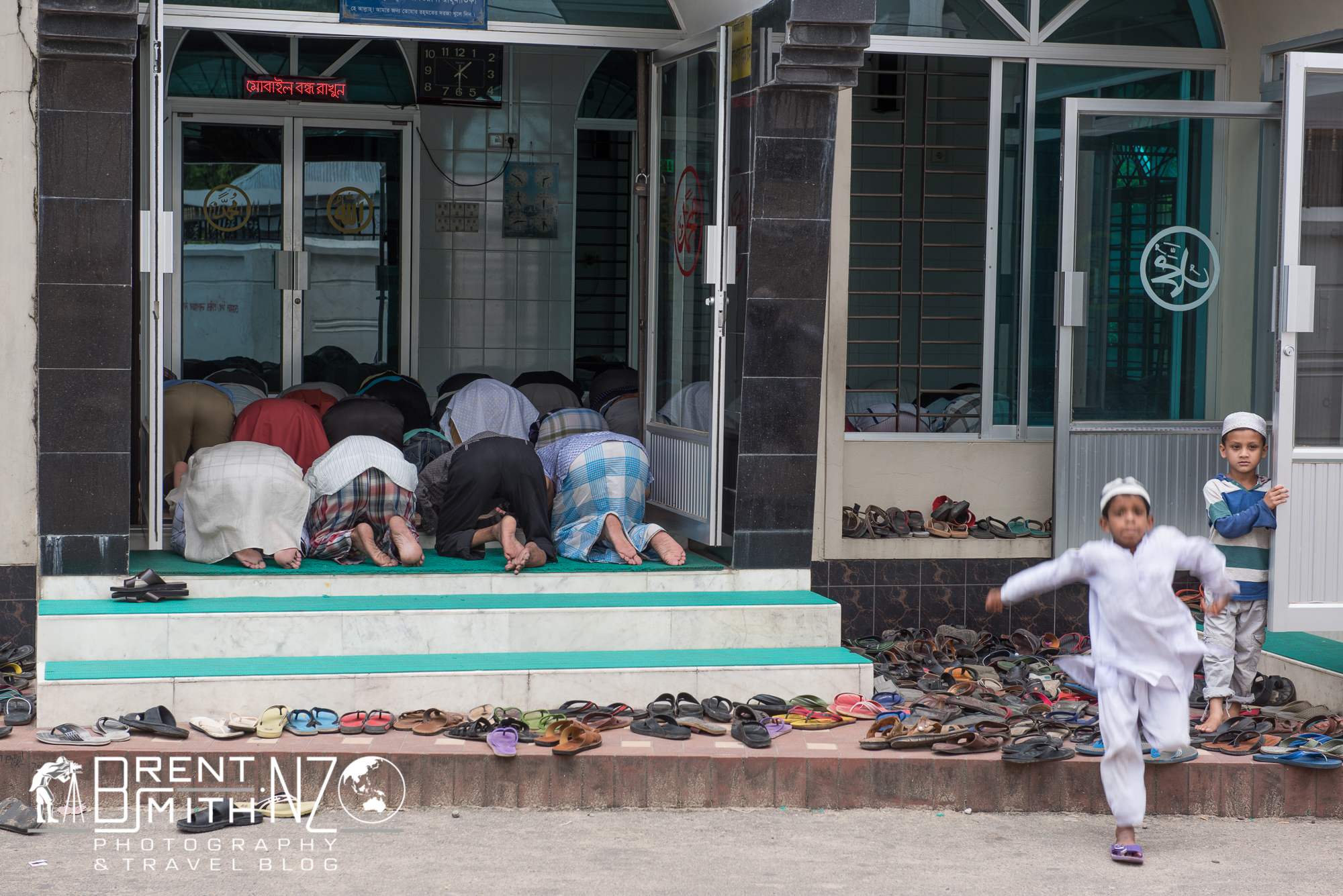 I watched for 15 minutes then they finished, as they came outside lots of them came over to say hello or just get closer to a white man, I shook many hands and saw many smiling faces, humans just like me.
From there I walked for another 30 minutes through more back streets until I was in the vicinity of the Tea Garden. I found a gate through to a dirt track leading between small tea covered hills. An old man stopped me once I had entered and was gabbling to me. I had no idea what about, then he called another man over. After a couple of minutes chatting together the old man shrugged his shoulders and waved me through. He didn't ask for money so I was none the wiser.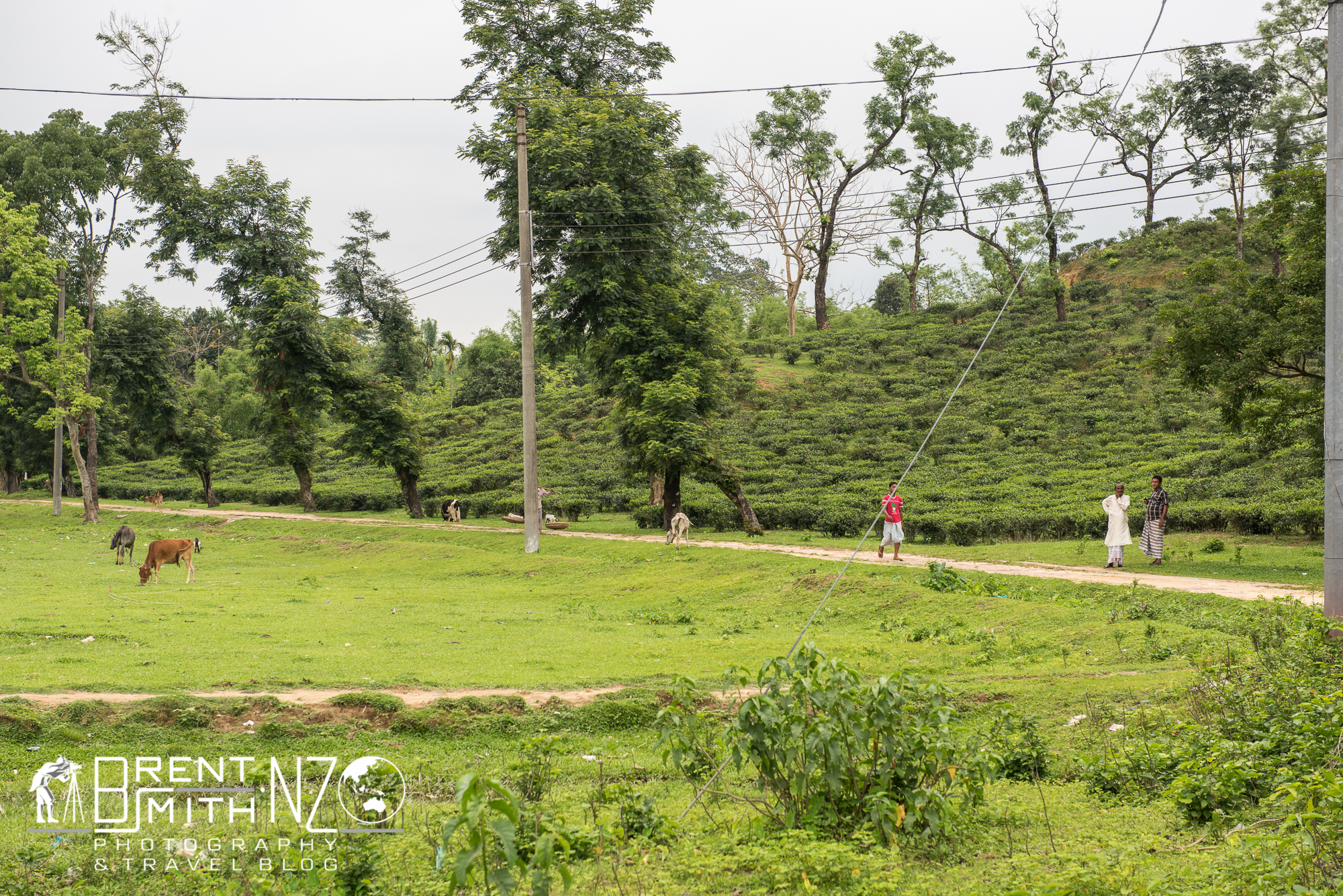 It was very peaceful – almost like a forest in the city – I walked along the dirt path past a couple of mud houses and a little dirty stream. There was a small grassy field with a couple of cows on the left between the track and the hill covered in tea. I was being vigilant and spotted a group of 4 young teenage boys come onto the path, see me then head towards me. Just before I got to them a CNG (tuk tuk) made its way past me on the narrow track going in the same direction as me, he went 10 meters past the boys then stopped and I saw him looking back in my direction.
As I passed the boys they all smiled and I could see they were no problem, then the CNG driver called out to them and they in turn called for me to stop. They explained that it wasn't safe for me to be in that area – they said the CNG driver was warning them that I could be attacked, robbed or abducted if I went further along the track. It all seemed so peaceful, but at their insistence and the CNG drivers I turned around and went no further.
I chatted to the boys on the way back down the path, they pointed out that just beside the path on the left as I headed back there was a fair ground.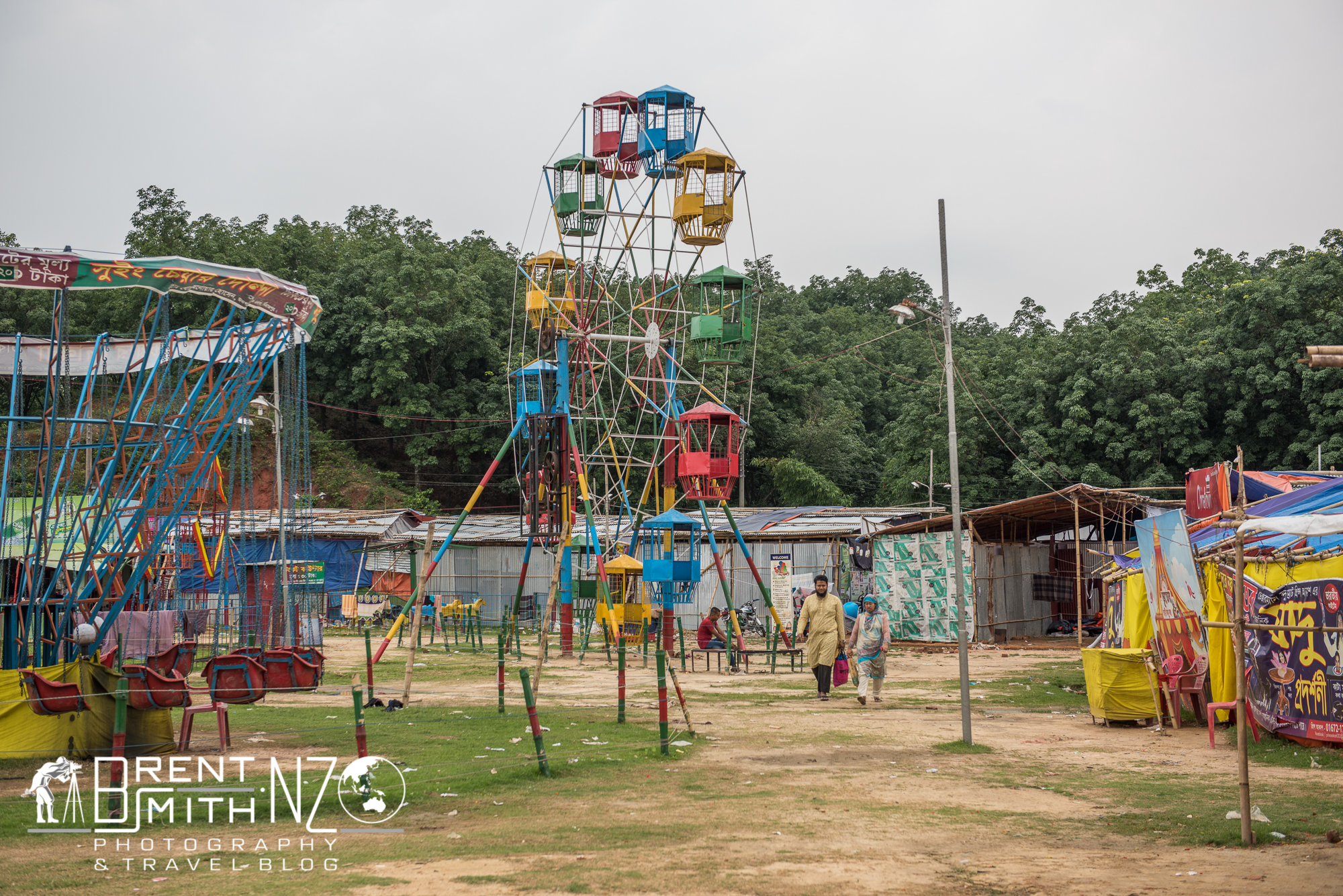 I could see the top of a ferris wheel over the fence that ran beside the track. A little further down they banged on a gate, and after a quick discussion a padlock was undone from the inside and I was let inside the grottiest fair ground I have ever been to. There were stalls selling crap, and three rides that I doubt had been inspected for 10 years. I presumed they still go, but not while I was in there. I did a circuit of all the stall and exited back onto the street.
From there I caught a CNG back to the Hotel where it is currently 7.40pm and I am going to go down to have hopefully only 1 course tonight for dinner.
Will last nights waiter still be there ??
Wait for tomorrow night instalment to find out!!